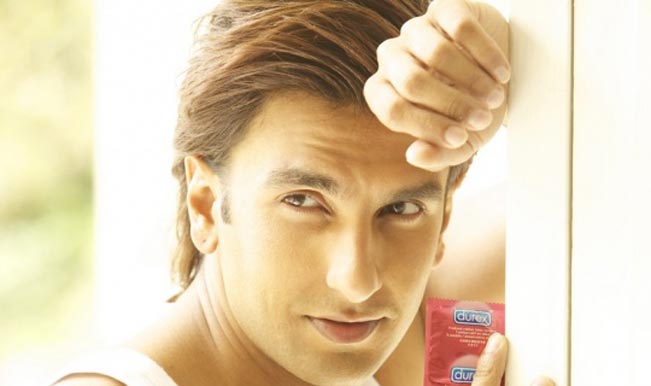 Much was being said about Ranveer Singh landing a job to endorse an international condom brand. It was as if Bollywood's Casanova derived some pleasure out of being chosen brand ambassador for Durex. The actor's first look for the advertisement campaign is out, and we say, 'That don't impress us much'.
Ranveer is simply holding a pink condom packet between his fingers and posing in a clean, white vest. Wouldn't it have made sense to have him topless, considering Ranveer has a hot and sexy body? The picture looks like Ranveer is trying to sell vests rather than condoms. Sigh!
Now maybe we're being harsh and the ad film will be good and all, with Ranveer charming the ladies. The actor apparently has hit upon a great campaign idea for the condom brand, something that will blow our minds away.
It looks like Ranveer's advertising copywriting background has helped him come up with this 'great idea'. But we shall see. Simply because pornstar-actor Sunny Leone was as much confident about her Manforce condom ads, which did not excite us at all!
It would've been more exciting to see actress Deepika Padukone, Ranveer's current girl, in the ad with him, right? Meanwhile, read Ranveer's statement on why he is doing the condom campaign: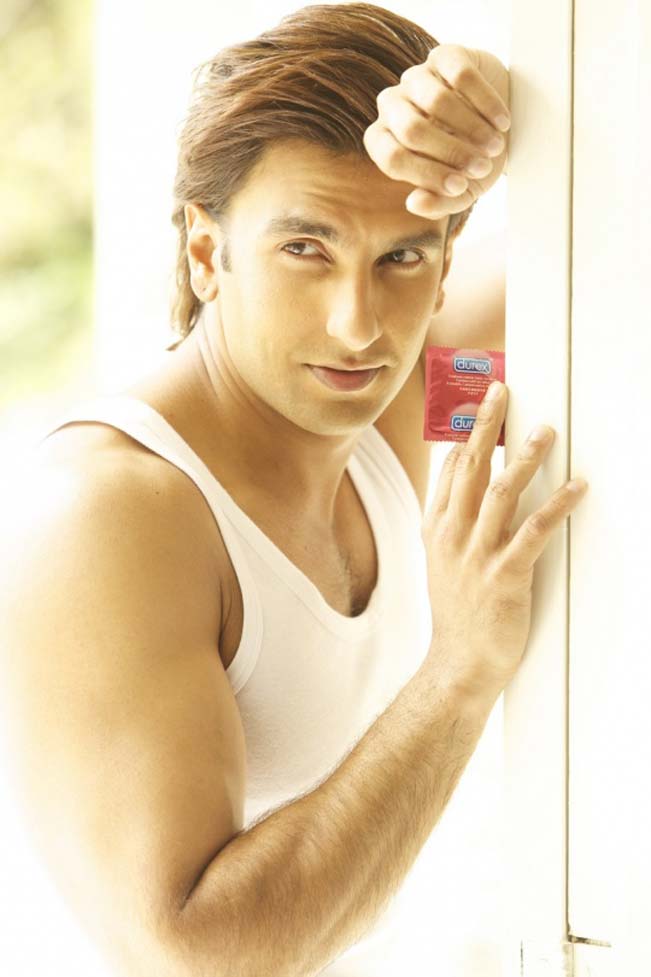 "As an actor and as an individual, I have a propensity for pushing the envelope, breaking the mould and taking the road less travelled. As such, I constantly endeavour to build an equity that is unique – one that truly stands out from the crowd. Over the past three-and-a-half years that I've been a part of the Hindi film industry, I've declined several tempting endorsement offers. I've been saving my brand virginity for the right one. And now, finally, I'm popping my cherry with the world's leading brand in Sexual Wellbeing – Durex!
Sex is still considered a taboo in our country and the idea behind my association with Durex is to create awareness around sexual wellbeing, promote safe sex and have fun while doing it! After intensive brainstorming, my partners at Durex and I have jointly devised a kickass creative campaign, but it'll be a while before it releases. It will surely hit the spot, but it won't be coming soon."