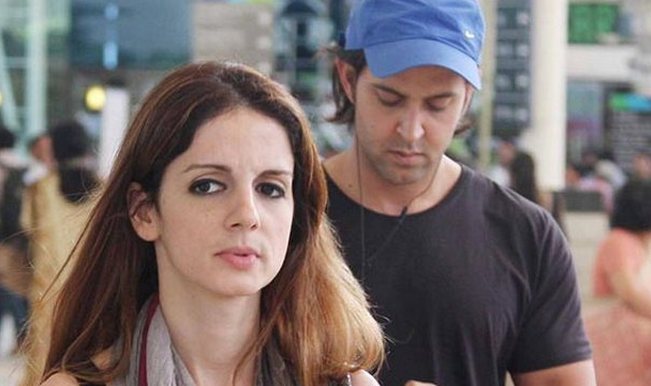 Bollywood superstar Hrithik Roshan had a painful separation from beloved wife Sussanne Roshan in mid-December last year and since then the couple has been the victim of speculation, jokes and nasty rumours about their relationship. Right after the separation, people said the reason for a rift was Sussanne's closeness to actor Arjun Rampal who is also Hritik's friend. When these rumours were squashed, a new one began circulating Hrithik-Sussanne were together again.
But everyone was stunned when Hrithik-Sussanne filed for divorce in April 2014. Then began stories of Sussanne having demanded an alimony of Rs 400 crore, painting Hrithik as a hapless to-be former husband.
Hrithik being a gentleman, released an exclusive statement that first appeared in The Bombay Times, refuting the alimony rumours by standing by Sussanne and showing how much he still loved her. Hrithik said, "Sussanne is an independent working girl, question of alimony does not arise."
Here's the full statement of Hrithik Roshan regarding Sussanne Roshan: 
"Disgusted with all this manipulated Alimony bullshit in an effort to tarnish reputation. When people separate, they DON'T STOP being FAMILY! When a man is too strong to be affected or attacked, they target his family instead. No one DARE attack my family like this.
This is my sincere request to all that have intruded into my private life like vultures trying to use my separation to project their own frustrations.
Please stop this unethical and immoral behavior. Sussanne has not demanded a single penny so the question of 'Alimony' does not arise! She is an independent working girl and heads her own self built design company. Our relationship never was and never will be about money!
How dare some people attack a person's identity and character and then turn it into a joke is unfathomable and downright disgusting! Stop trying to dig for dirt where there is only peace, love and harmony because that's the kind of people we were brought up to be by our loving parents.
It is sad that I have to put out a statement like this but sometimes the truth needs to be louder to obliterate the lies. Shame on all of you who wrote about this and shame on all the people who had a good laugh about it."
We are with you on this, Hrithik.