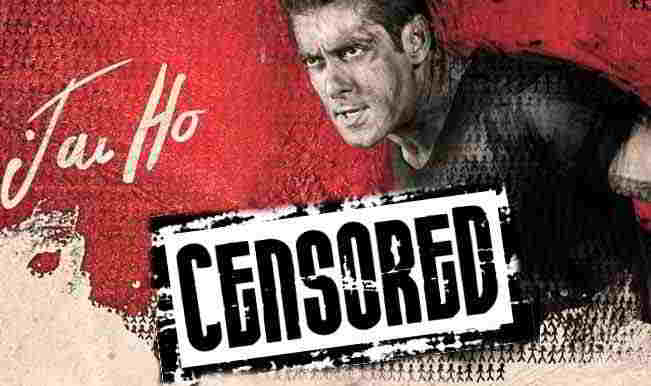 The new censor board CEO certainly seems to be stamping his authority  and he has gone ahead and done the unthinkable. He has actually given the Salman Khan-starrer Jai Ho a U/A certificate! Having promised to cleanse Indian cinema from sex, vulgarity, drugs, alcohol or anything that even remotely resembles anything fun, Mr Rakesh 'Sanskari' Kumar has fired the first shot by taking on Bollywood's most popular star. While news reports suggest that the Central Board of Film Certification gave the U/A certificate because of the movie's political content, India.com can exclusively reveal that this is not the case at all. The real reason is to protect children from Salman Khan's mindless movies which many believe is responsible for dumber children!
While some claimed it was the hard-hitting dialogues about corruption in present-day Indian politics that made all political parties across the realm sit up, our source in the Censor Board can reveal this is all bollocks. Mr Cut (name changed to protect identity and show link to his real-life job) said: 'Hard-hitting dialogues about corruption in a Salman Khan-movie? Are all the mainstream media sources smoking weed? No the issue started with the Shuddh Desi Romance fiasco when our current CEO Rakesh 'Sanskari' Kumar went to watch a movie with his daughter which was U/A. He had a little trouble understanding what U/A meant. Anyway we explained the concept to him properly and he got very excited. He felt we should give more and more films the U/A certificate!'
He added: 'Anyway he felt that the Censor Board's job is to make sure that movies stop being about mindless entertainment but also educate and enlighten youngsters. He felt that Salman Khan's movies with mindless action, item numbers and logic-defying dumbness were seriously stunting children's intelligence all over the nation. He felt that parents need to take the decision, whether they want to expose their children to such dumbness at such a tender age.' (Read: Salman Khan's worst movies)
We talked to researcher Dr Kuch Bhi to see if there were any studies to back up the belief that Salman bhai's movies can lead to lowered cognition in adults. He said: 'We really don't appreciate the influence cinema has over youngsters, especially the malleable ones. I've been studying this Bollywood-IQ phenomenon for years now. People who've only watched Bollywood movies tend to show lesser cognitive skills and appear to be slower when they grow up. I've seen a connection between low IQ in movie watchers who grew up on a staple of Mithunda, David Dhawan, Govinda, Rohit Shetty, Kadar Khan, Jeetendra and Sunny Deol movies tend to exhibit similar behaviour. In fact, the quality of cinema which dropped in the early 90s with the demise of the Angry Young Man, and until Amitabh Bachchan reinvented himself to play his age, is responsible for the turmoil the nation finds itself in.'
So does watching intelligent cinema actually make people smarter? Dr Bhi added: 'Well that's the bizarre bit. While people who watched really intelligent movies, the kind made by surrealistic directors didn't exhibit any sort of enhanced intelligence other than a higher desire for pretentious speech, those who watched C-grade thrillers over the years were definitely smarter and more successful in life! Truth is indeed stranger than fiction!'
We were unable contact Salman Khan for comments but he was out meeting some politicians to get this move reversed. We have also written to Sushil Kumar Shinde to ask for security considering Salman Khan's fans' fury could make the Shiv Sena and MNS look like choirboys.
 Disclaimer – This is just a satire piece. Salman Khan fans keep your cool, Censor Board please don't get angry!
Loved our articles? For more follow India.com on Facebook, Twitter and Google Plus.