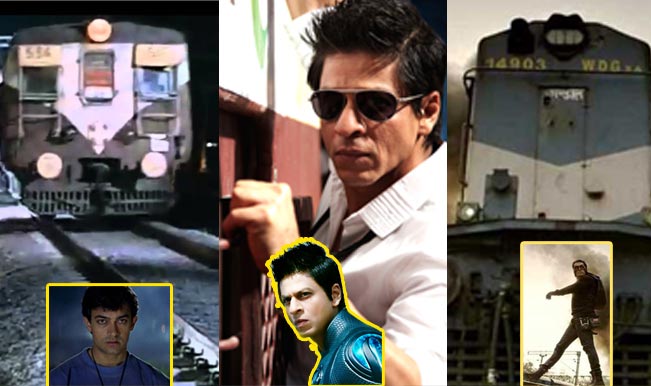 You've gotta admit it. A scene from Salman Khan's forthcoming movie Kick, showcasing how bhai manages to let go of his bicycle just in the nick of time as he prefers to walk across a railway track with a speeding train almost hitting him, has captured the collective imagination of the country.
Now if you think Sallu is the only Khan of the mighty 'Khan trio' to have attempted something as risqué as that (with the able help of the special effects, of course! even in movies like Bodyguard and Wanted) you need to think again. Remember how Aamir Khan took that leap of faith just before a speeding train almost crushed him in Ghulam? ( watch the drama here)
Even the King Khan of B-town himself has shown his penchant for indulging in antics on a speeding train. (No we are not discussing Shah Rukh showing off his zestful moves on the top of a moving train with Malika Arora Khan gyrating her najuk kamraiya to the beats of Chaiyya Chaiyya) In fact, SRK's superhero avatar G.One did everything imaginable-and, even beyond-to stop the ill-fated train in RA. One.
Watch and compare how our Khan trio pulled of those antics in their unique styles and tell us which Khan superstar should be titled the unofficial brand ambassador for our railway!