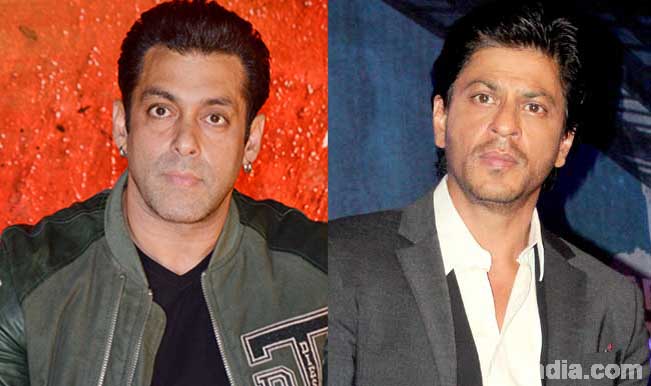 Do not blow the news of Shahrukh Khan's injury out of proportion and focus on "Jai Ho", which is releasing Friday, actor Salman Khan has said. SRK suffered a minor injury on the "Happy New Year" set Thursday, and within a few hours after seeking quick medical aid, he returned to the movie set. The warring Khans of Bollywood recently kissed and made up (not in the Dharmendra-Jethmalani way)and Salman tagged it as coincidence that SRK got injured just a day before the release of his film. When asked about the SRK's accident, Salman said: "This had to happen just before the release of 'Jai Ho'? Don't blow this news out of proportion."
"Unke jaan pe hamla nahi hua hai (There was no mortal attack). He has not lost his memory… He is fine, so concentrate on 'Jai Ho'. We just found out that he is fine, so we are happy," Salman told reporters at the unveiling of the trailer of "O Teri", made by his brother-in-law Atul Agnihotri. Directed by Salman's younger brother, "Jai Ho", which will show the current political and social situation in the country, will hit more than 5,000 screens. This is Salman's first release after 2012 blockbuster "Dabangg 2".
Meanwhile SRK's wasn't so minor according to a eye witness. According to an eyewitness, Shahrukh was not just injured but also badly shaken by the accident. "Shahrukh was shooting with Abhishek Bachchan, Sonu Sood and Deepika Padukone for Farah Jhan's 'Happy New Year' when a heavy 10×5 door came crashing down straight towards him. He ducked. But couldn't escape entirely though. He had bleeding gash on the right side of his forehead. His knee was also injured," said the eyewitness.
Worst of all, Shahrukh's shoulder which has undergone several surgeries took the weight of the falling door. Says the eyewitness: "Shahrukh was in a lot of pain. He is also become frail because of the repeated injuries and surgeries. The entire team went to the hospital with him. They were there for more than four hours. Thorough tests including CT scan and an MRI scans were done." The test reports are awaited. In the meanwhile, Shahrukh insisted on returning to shoot after the hospitalisation.
Says the eyewitness: "Shahrukh and the entire team went back to shoot at the Marriott. Shahrukh had his hand in a sling. He took of his sling and did his shots. But he was quite shaken. The shooting has been cancelled on Friday to allow Shahrukh to rest." IANS