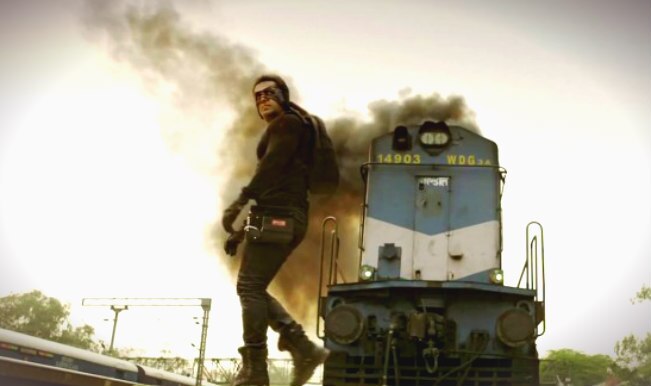 The trailer of Salman Khan's much awaited movie 'Kick' launched on Sunday June 15 crossed 4 million views in just 40 hours while Dhoom 3 and Krrish 3 took six and four days respectively to reach the same number.
Salman Khan as 'Devil' in a superhero avatar is a bit hard to digest. Without any superpower  he is climbing over a running train, jumping from an all terrain bike and walking in slow-mo in front of a running train, jumping on a helicopter riding the bike etc. Only Salman Khan has got the license to perform all these kind of stunts.
The scenes look 'inspired' from number of Hollywood movies like Expendables, Mission Impossible etc. In case of Kick the debutant director Sajid Nadiadwala has left no stone unturned and has got Hollywood action directors (Philippe Guegan and Spiro Razatos), who will show us the same what we've seen before – over exaggerated action.  The scene of Salman Khan walking casually in front of a running train throws all the logic out of window.
It is not just the action. Even the humour falls flat and may actually prove to be one of the major flaws of the movie. The movie will surely gross some huge numbers at the box office, but from any angle it is not looking something very different from the movies we have seen in the past.
The fate of the movie totally will be dependent on the positive word of mouth (WOM) and superb content. The pre buzz of the movie is at zenith and will surely help in getting a bumper opening at the box office. That means more of the same in future. Some things never change in bollywood.