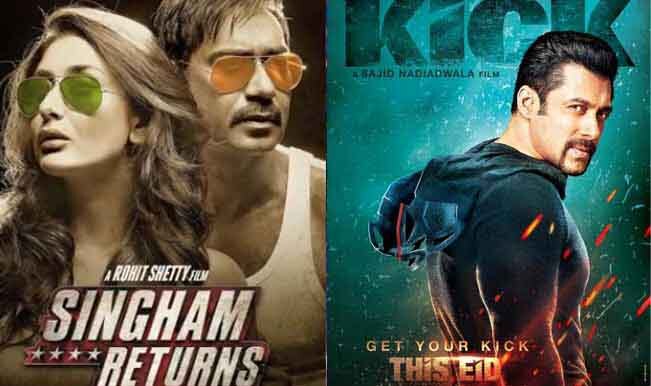 It's high time for Salman Khan Fans, as they will get their Kick in just five days. Shot lavishly on the picturesque locations of Scotland and South Korea, this movie is bound to have top-notch action. With the addition of renowned names like Tony Christian (Harry Potter fame) and Lee Milhamm (The Dark Knight Rises fame) as stunt performers, the expectations from the movie are on the zenith.
On the other side, Ajay Devgn has pulled up his socks to shatter the records at the box-office. Singham Returns is sequel to the super-hit masala movie- Singham. Best known for thrilling action, Rohit Shetty is ready to repeat the history like he did with his recent directorial-venture Chennai Express. Singham Returns is a hardcore action flick, and this will give it an edge over Kick in single screen theatres.
We will witness two of the best action flicks in the period of three weeks. Touted as an international-standard action movie; Kick will pit itself against the out-and-out desi action of Singham Returns.
Produced under the banner of Nadiadwala Grandsons Enterntainment, Kick is slated to release on 25thJuly. Singham Returns is produced by Reliance Entertainment and Ajay Devgn Films, and will release on 15th August.