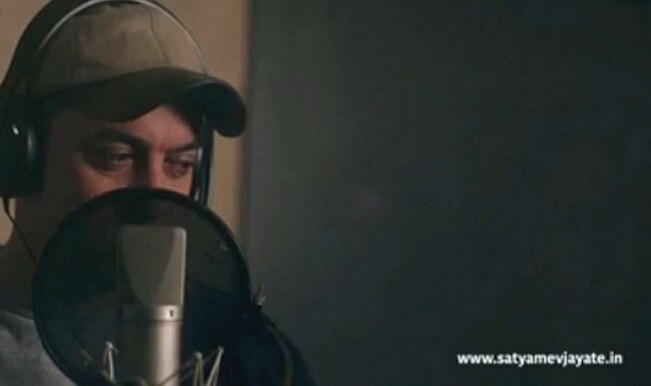 With so much hype and anticipation for the premiere of Aamir Khan's TV show Satyamev Jayate 2, we assumed that the actor-host and his music director Ram Sampath would come up with a new theme song for the second season. But they have just rehashed the original anthem, which Aamir had described as 'A love song for the country' last year. READ: Satyamev Jayate 2 first episode review
A remix makes sense since the Satyamev Jayate original anthem was quite popular. But what have they added in the new version? Aamir's voice, for one. What's more, the actor-filmmaker joins Indians across the country who croon a line each for the song. They might sound a bit besura sometimes, but the feeling has been captured right. The guitar chords of the original song remain.
The original's Satyamev Jayate anthem video was a collage of places and people Aamir visited during the first season's shoot. The new Satyamev Jayate anthem's video simply shows people from all strata of society pitching in to sing Prasoon Joshi's lyrics Tera rang aisa chad gaya…. Watch the video and enjoy listening to the Satyamev Jayate 2 Anthem in an all new version!
Watch Satyamev Jayate Anthem: A love song for the country
Satyamev Jayate 2 premieres on March 2, 2014 on Star Plus, DD and Star's regional channels at 11 am and will air every Sunday. The telecast format, though, is slightly different from last year. There will be breaks between each cluster of episodes this year.