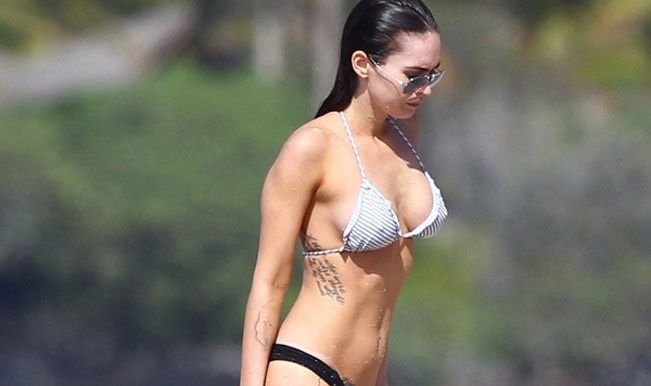 Megan Fox who has appeared on the covers of many magazines including Maxim, Cosmo Girl, GQ, ELLE and so on and who is also considered to be one the most sexiest actresses in Hollywood, celebrates her 28th birthday today. She is often compared to actress, Angelina Jolie. This is partly because they each have a "tattoo collection." It's interesting to go through the list of tattoos she has. Take a look:
Strength
She got her first tattoo ever at the age of 18. It was a Chinese symbol of strength at back of her neck.  Megan Fox's strength tattoo is one of her smallest and probably one of the most personal and powerful tattoos she has.
Shakespeare
"We will all laugh at gilded butterflies"
It's an adaptation of a quote from King Lear by William Shakespeare in the Old English font. She got this tattoo on her right scapula to remind her to stay grounded and not get trapped in all the glitz and glamour of Hollywood.
Poem
"There once was a little girl who never knew love until a boy broke her HEART."
This text tattoo is on the side of Megan's chest and is a poem she wrote herself. It's one of the sexiest tattoos she has.
Marilyn Monroe
Megan has a Marilyn Monroe tattoo on her right inner forearm. Having idolized Marilyn since a very young age, she knows a great deal about the actress. Her placement of the tattoo was so she could look at it and be warned not to let Hollywood treat her as badly as they treated Ms. Monroe.
Crescent Moon and Star
The crescent moon and star tattoo is the only colour tattoo showing on her body and is located above her inner left ankle. The meaning, however, remains a mystery..
Tribal
A few years back, Megan Fox got a tattoo inked on her left wrist that features two tribal waves, a tribute to the love and appreciation she has for surfing and the ocean.
Brian
In 2005, while dating actor Brian Austin Green (now her husband), she introduced the world to her newest tattoo: the scripted word "Brian" located on her lower right abdomen area.
Rourke tribute
"And those who were seen dancing were thought to be insane by those who could not hear the music."
It is a tribute to her Passion Play co – star, Rourke and is inked on Megan's right ribcage.