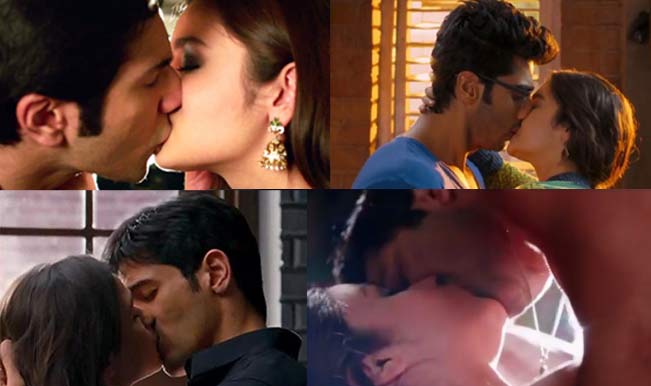 Alia Bhatt is slowly but surely transforming into the lady Aamir Khan of B-town. Having kissed practically every male-co star (much in the same way the shorty Khan has kissed almost all of his heroins) in every movie she has done so far, Alia is redefining the serial kisser title. Her recent, lava-hot liplock with Varun Dhawan in Karan Johar's soon-to-be-released production Humpty Sharma Ki Dulhania has only reiterated Alia's kissing prowess. Here presenting Alia Bhatt's passionate smooches with some of the dishi-est dudes from B-town(from Sidharth Malhotra to Arjun Kapoor). Take a look at these starry liplocks and tell us who has delivered that oh-so-perfect kiss with Miss Bhatt!
Sidharth Malhotra: Karan Johar's pop-corn college drama not only gave Alia Bhatt and Sidharth Malhotra an enviable platform to make an ideal debut, it also presented the duo an opportunity to kiss and tell…err that they the two have it in them what it takes to produce a fine kiss. Awkward, romantic and nearly-perfect is how we define this kiss.
Arjun Kapoor: 2 States produced some really meaty opportunities for the Kapoor lad to take his newly-minted kissie boy image further (Didn't he prove that he was a fine kisser by delivering those passionate pecks in Ishaqzaade and Aurangzeb). Anyway Alia too approved Arjun's kissing skills as the two were seen using their pouts to some sensational effects in that wet..err shower scene in the movie!
Varun Dhawan: He might have played Alia's boyfriend in Student Of The Year but the Dhawan lad got indulge in a full-fledged kiss with the spunky star only in his second outing with Alia, Humpty Sharma Ki Dulhania. Hot, passionate and really romantic is how we rate this kiss!
Randeep Hooda: The much-mature (compared to our young and tender beauty) Randeep Hooda delivered one of the most organic (and believable) kisses of all times!