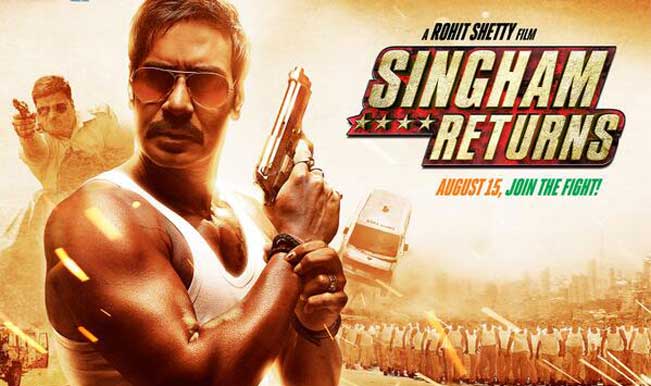 Singham Returns offers all  vital elements of a typical Rohit Shetty movie. From bad guys being whipped with a belt, to heads being pummelled by a bare fist. to cars exploding in possibly every second frame-Rohit Shetty portray his action drama unapologetically loud and noisy. And yet, this overtly dramatised action entertainer stokes angst, distress and passion in you quite effortlessly as the protagonist is seen delivering those solid punches (including some really fiery lines) and killer kicks. But the real master is Shetty here.
The film-maker knows his craft to the core. He makes Ajay Devgn in and as Singham (Returns) deliver punches, but ensures that he delivers an entertaining story in the process as well. While Devgn is at his "roaring" best, Kareena Kapoor Khan revisits the character of Geet from Jab We Met, seemingly delightfully cheerful on steroids. Having said that, Ajay and Bebo's performances make for a promisingly entertaining watch. Surprisingly, Amol Gupte, who plays the god-man-turned nemesis of our roaring tiger, portrays an over-the-top villain who gets some really interesting lines to mouth. From the fight sequences to gorgeous photography, Rohit mounts this adrenaline pumping action fare with a fairly predictable but an entertaining setting. We give you five reasons why you must catch this one.
Ajay Devgn rocks! His raw intensity complements the character's indomitable spirit. He's insurmountable while on duty, tender when in love and subtly funny in comic scenes. The 45 year-old is getting better both in terms of his performances as well as in the looks department. flaunting his pumped-up physique and rare aggression Devgn stands-out, and how! Watch the one man army sprouting a pair wings to appear in the frame, out of nowhere, with his torso leaning parallel to the ground, to dodge a shower of bullets and to save his fellow mate Daya. There are copious fan pleasing moments and you cant help but whistle at every action sequence he appears in.
Rohit Shetty is kick ass! Shetty employs both sense and a sensibility in all those larger-than-life explosive sequences which include believe-it-or-not shots of Devgn single-handedly scrunching up an entire army of goons incessantly. The way in which he mounts his shots and uses cinematography with such an expertise ensures the man knows his craft=and his story-really well in his head!
Amol Gupte is captivating! Replacing the delightfully over-the-top Prakash Raj in this sequel, film-maker-turned-actor Amol Gupte keeps his character eccentric, menacing and quirky. He shifts gears at ease as he jumps in out of his white robe to his bermudas and T-shirts with choicest one liners printed on them. Gupte portrays a caricature figure that looks like the distant cousin of his character Bhope bhau from Vishal Bhardwaj's Kaminey.
Explosion a minute!: The high-octane dialogues and racy sequences make you glued to the seat. Designed as a tribute to the pure, unadulterated action movies, where a larger-than-life hero battled a Goodman turned mega-evil villain, with the help of his principles and his bare fists, Rohit leaves you goofy, grinning and clapping with cheerfulness as Devgn and Gupte indulge in in-your-face verbal combats.
Entertainment guaranteed! After working with Shahrukh Khan in Chennai Express Shetty comes up with an actor who has worked in almost every film of his. And he delivers a better result this time around. With notable performances from the supporting cast including Anupam Kher and Mahesh Manjrekar coupled with an explosive drama, Shetty promises oodles entertainment.
Our rating: 3 stars