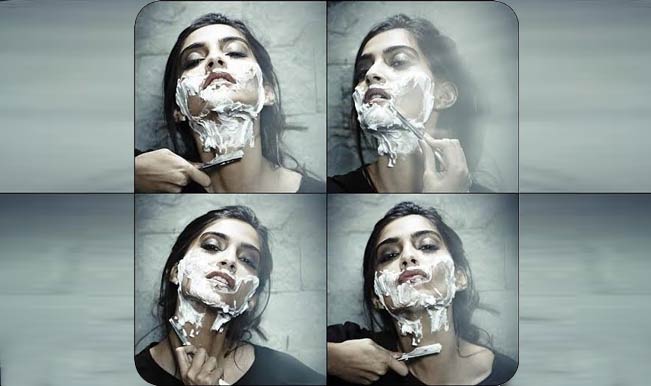 Actress Sonam Kapoor always seems to have a peculiar look to carry around and she does it as she damn means it. She is known for her unique style. She always sports style as no one else does and no one else dares to carry the outlandish super styled clothes and looks that she dares to make an appearance with. Her style exuberates quirky yet feminine, vintage yet edgy choice of clothes.
The actress always tries to evolve into something better and different every time. She was lately in news for breaking in to the list of bikini clad actresses for her movie Bewakoofiyaan .And this time she's done something weirder to stand out of the crowd.
She is seen in a picture all dolled up using a razor on her face all foamed up with shaving cream. And she is wielding the razor up from her neck to her face, and she is oozing out ultimately sensuous looks to the camera.
The hatke photo shoot is done by her friend Rohan Shrestha. The picture was captioned: Boom!@Sonamkapoor:Need I say more?*No hash tags required*.
When we are coming to the verge of getting bored with all the selfies and the pouting images by actresses, this for sure adds a fresh dash to the boring loads of pretty poses.
Does it amuse you with all the hard hitting sensuous expression or does it put you off since you are not so used to see a lady all lathered up in shaving foam? Shoot your comments.