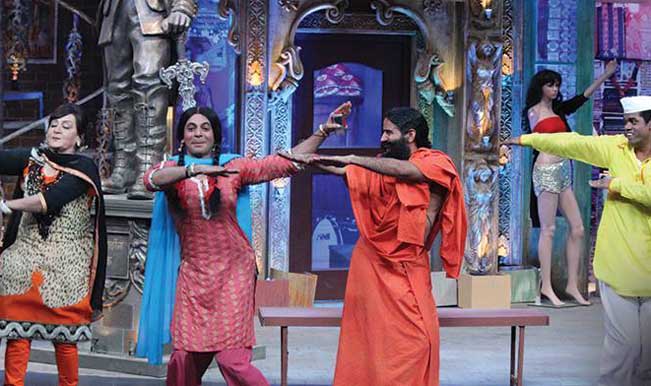 So the much anticipated show Mad in India is finally out! And must say it has all the elements to dislodge the current comical caper Comedy Nights With Kapil hosted by comedian Kapil Sharma. In its very opening episode, the show highlighted its strong presence in the form of Manish Paul anchoring the show, yoga guru Baba Ramdev as its first guest celebrity and Sunil Grover as Chutki!
Yes Sunil Grover is back. If not as Gutthi, he is back to entertain you as Chutki! With similar two braid hairstyle with red ribbons, she looked hilarious. Agree we all missed her. The great tussle between Sunil Grover and Kapil Sharma led to her walking out of the latter's show Comedy Nights With Kapil. But he has definitely made amends with her Chutki act.
Another reason which made the show delight to watch was the interview of Baba Ramdev. He was seen chatting with Manish Paul who is brilliant with his comic timing.  He sang, danced, taught kapalbhati and did handstand! He even blessed Chutki and the show to become the number one show!
But the star of the show remains Sunil Grover with his several acts and he catches your attention again with his flawless Chutki act. The show airing one hour ahead of his former show has definitely sizzled in his first episode. It is widely rumoured that the 'Bua's wedding sequence' in Comedy Nights With Kapil was planned to kill the buzz around Sunil Grover's Mad in India.
Gutthi or Chutki, Sunil Grover shows he is definitely one of the best television actor with a comic timing at present on the small screen. As for both the shows, it looks like even-steven at the moment. Only time will tell who survives in the longer run as for now the viewers remain in splits!
So was Sunil Grover's Chutki act a sizzle or fizzle for you guys?