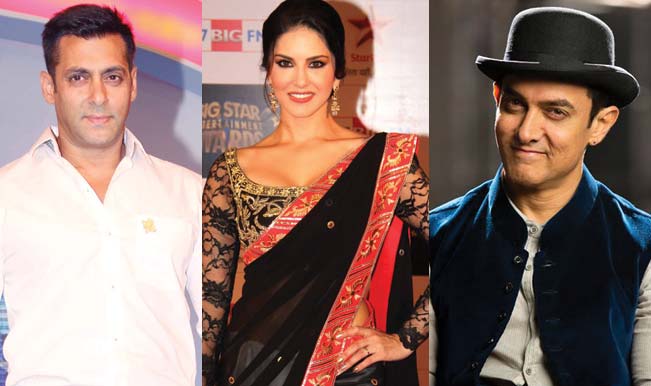 Hold your thoughts, Sunny Leone is not launching her TV show on the lines of Aamir Khan's Satyamev Jayate nor is she going to be the leading lady of Salman Khan in the near future. So what is it that connects this sexy Indo-Canadian pornstar and Bollywood actor to these leading Khans? Well, she is following these two superstars' promotional skills and hardworking ways!
Riding high on the success of her recently release 'horrex' movie Ragini MMS 2, Sunny was spotted selling tickets personally at theatres. She went behind the counters to hand over the tickets to the equally enthusiastic audience members. And looks like all her hard work has paid off as the movie has collected Rs 24.5 crore at the box office as per the latest reports.
Sunny's dedication towards the promotional strategy reminds you of the innovative promotional skills shown by Aamir Khan during the release of his movie Ghajini in 2008 when he turned into a barber and styled the lucky ones with his famous Ghajini hairstyle. He was equally brilliant when he announced Track Aamir, a promotional game during the release of 3 Idiots in 2009 when he vanished, only to show up with his travels across India.
Lately when you talk about promotions, the Dabangg Khan cannot be far behind. Salman Khan was seen selling the tickets at the Delite Theatre for his film London Dreams in 2009. It was one memorable scene to watch the favourite actor hand over the tickets to the maddening crowd.
Well, Sunny Leone is definitely taking a lot of cue from these superstars and is on the path of becoming one. This Baby Doll is here to stay, as she is making sure to learn every trick and lesson to be the best in Bollywood!