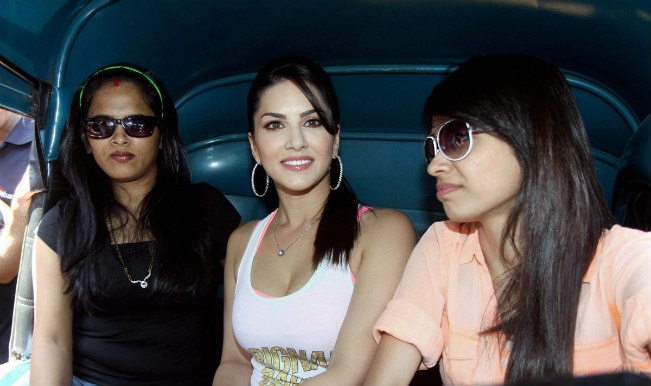 Famous Bollywood actress Sunny Leone is too hot to handle in her upcoming film, Ragini MMS 2. Sunny flaunts her curvy figure in the two songs from the film, Baby Doll and Chaar Botal Vodka. The trailer of Ragini MMS 2 shows Sunny in a bare dare avatar. She also figured in a hot shower scene!
It's a given that she'll have fans for her smoking hot onscreen presence! But things took an ugly turn at a rickshaw branding campaign as part of promotional strategy of Ragini MMS 2.
Sunny Leone was amongst several auto rickshaw drivers, as a part of the rickshaw branding campaign, was manhandled during the process. The actress said, "We were doing the rickshaw promotions, when suddenly things got out of hand. Police had to intervene and remove people who were getting on to the auto rickshaw in which I was sitting. They were banging it but thank God, nothing much had happened as the cops came immediately to help us out."
Though the turn out for the promotion was in huge numbers and was a hit, Sunny Leone was obviously taken aback by the reaction of the terrible behaviour of the people. The crowd was believed to have been "uncontrollable" and they almost got over her. The ride in the rickshaw was fun till this happened," she added.
Sunny Leone became a household name in India after her 'Bigg Boss' stint. Now she's acting in all sorts of movies in India. But when such things occur, we won't be surprised if she leaves the Bollywood scene for good!