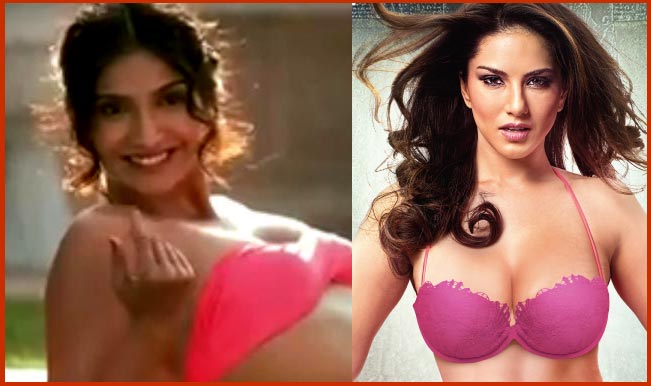 Fuchsia looks like the colour of the season and Bollywood's leading ladies are choosing this colour even more when it comes to skin show on celluloid. Yes, Sunny Leone and Sonam Kapoor seem to have a liking for this colour, as they set they are setting the screen on fire with their ultra glam looks in these shades of pink.
Sunny Leone is not new to bewitching the audience, as this former adult star has become quite familiar to the Bollywood audience. Making her debut on screen with Pooja Bhatt's Jism 2, she is back with an erotic horror film Ragini MMS 2. The movie poster has Sunny sizzling in two-piece pink lingerie with scary ghosts in the background. Completely at ease with her body, she looks quite comfortable in her skin with the obvious expressions required for her role. Flaunting her assets in this pink string bikini, it is quite a thumbs up for Ms Leone. (Watch Ragini MMS 2 try to sexify Indian exorcism)
On the other hand we have got our town fashionista Sonam Kapoor, who is showing her glamorous side in her next release Bewakoofiyaan. The official trailer has Sonam wooing her onscreen boyfriend Ayushmann Khurrana in a two-piece bikini as well. Her choice of the outfit is quite daring for a first timer. Her well toned sculptured body reflects the amount of workout she has gone through before this scorching debut on screen. Also, with this movie she breaks her no lip-lock on screen rule. We must say it is quite refreshing to see Sonam in a different style, considering she went all desi in her last two movies – Raanjhanaa and Bhaag Milkha Bhaag. ( Watch Bewakoofiyaan trailer: Sonam Kapoor sizzles in a bikini for Ayushmann Khurrana!)
So who has impressed you with her teeny-weeny pink bikini show – former adult star Sunny Leone or B-town fashionista Sonam Kapoor?