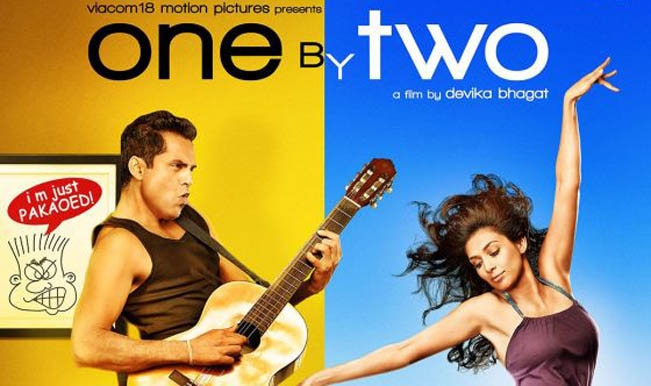 New Delhi, Jan 16: Seeking to clear erroneous understanding and misconceptions surrounding the music release of Abhay Deol's debut production venture "One By Two", T-Series Thursday contended that none of its agreements is against the law.
Abhay, who is co-producing the movie with Viacom 18 Motion Pictures, made a public outcry about the delay in the marketing and music launch of "One By Two", blaming T-Series for it.
"My music has not yet been released because the music company wants me to get the composers Shankar-Ehsaan-Loy to sign a clause which is illegal," Abhay had said at the red carpet of a recently held awards event, where he arrived with a made-up black eye.
Seeking to clarify its position on the issue, T-Series Thursday came out with an official statement carrying its version. "We fail to understand why we are being brought into this mess between the right holder (Viacom 18) and the producer (Abhay Deol)," read the statement from the music label.
"Viacom 18 represented to us that they own all the rights for the said film including its music rights free of any encumbrances and based on their representation, warranties and indemnities, we acquired the said music rights from Viacom 18 solely based on their express representations with a clear understanding that they will share the link agreements with authors and composers to complete the chain of title," the statement further said.
T-Series said that it spends a "considerable amount of our resources on acquisition of music as well as promotion of the music and the film and bear the entire risk of the commercial viability of the music which we acquire". "We are disappointed that baseless allegations are being made against us in an arbitrary manner completely disregarding our legitimate and lawful concerns as a music label. We are well within our rights to call upon producers to provide us with appropriate agreements with composers, lyricists and singers as we cannot acquire any rights from a person who has none to begin with."
"In the absence thereof, we cannot be expected to release music when there is no clarity with respect to the rights granted to the producer." The statement also stated: "It is pertinent to note here that we have yet not received the chain of agreements from Viacom 18. However, considering our longstanding relationship with the studio, we have gone ahead and invested considerable amount on the promotion of the music album on various media platforms … Our decision to hold back the release is primarily to safeguard the interest of Viacom 18 from any unscrupulous claims and infringement proceedings."
Three songs from "One By Two" are already live on its official YouTube Channel, T-Series said. IANS