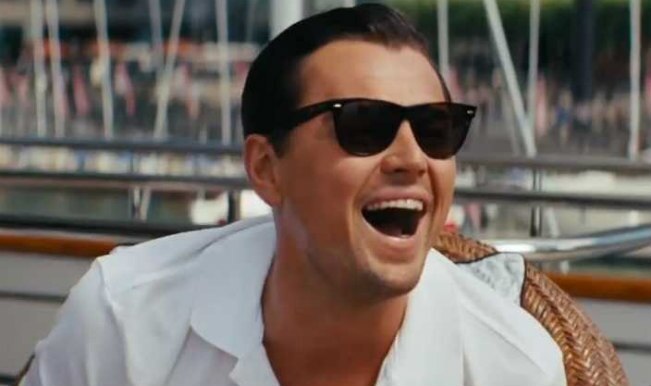 OK. Let's get this straight. I'm a big Martin Scorsese fan. In fact, the American-Italian director was born the same day as I was. Or vice versa. But that's besides the point. The point is that you go in to watch The Wolf of Wall Street expecting great cinema. Great it is, but in the same manner as we have seen before in Martin Sir's films. At least as far as the use of expletives is concerned.
News is already out that the 'F' word record has been broken in the new movie. And we can see guys earlier not interested in the film trying to book online tickets. Well, that's the point. Whether it's Scorsese or his watered down avatars in India namely Ram Gopal Varma and Anurag Kashyap, they all believe that characters mouthing gaalis again and again would make it seem cool for the viewer.
Women see it as the dialogue writer running out of ideas. Maybe the makers aim only for a male audience, as it's the men who were chuckling in the theatre every time a character went Effing.
While the real Jordan Belfort might've been like that back then – we don't know – it becomes a bit too much in The Wolf of Wall Street movie. The 'F' word is all you take home subliminally. And Leonardo DiCaprio as Jordan, of course.
The story
The movie tells the story of how Jordan became a stockbroker, formed his company Stratton Oakmont and fooled high net worth clients into buying penny stocks and invest in fake company initial public offerings. He also motivates his employees with a get-rich-quick mantra and spoils them to the core.
Jordan becomes famous. Booze, drugs, sex with hookers, big cars, houses and yachts overflow. The side effects begin. (SPOILER) Regulators and cops trail Oakmont and Jordan and the end is near. He has a close shave with the law and Jordan is a changed man. Real, and therefore a not-so-convincing end.
The performances
Coming to Leo – another outstanding performance by him under his guru Scorsese Baba's tutelage. Loud and obnoxious on the brink of hamming, Leo is a charmer and actually ends up making the audience feel for the character, much the same way as Manoj Bajpayee's Bhiku Mhatre won us over in Ram Gopal Varma's Satya.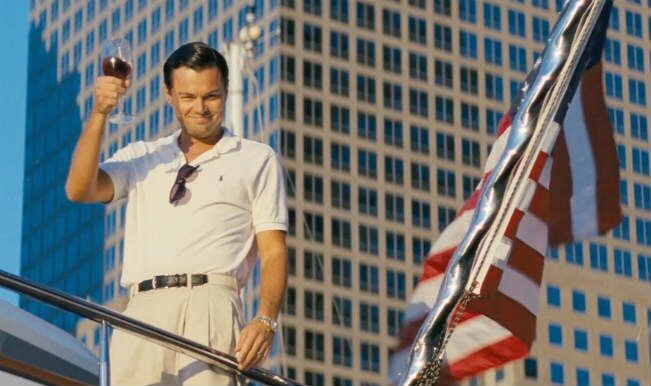 Which is why Leo had to explain that the movie is "not condoning" Jordan's wrongdoings but "indicting" it. But it sure does not come across like that. We almost fall in love with Jordan and his ways thanks to Leo, and so the end just doesn't melt in with our thoughts.
If that was your aim, Martin Sir, then hats off to you. What better way to make a movie on a thug, a drug- and sex-addict than by glorifying him? Who will watch it otherwise?
Other than that, well, actor Margot Robbie, who plays Jordan's second wife Naomi, is a hot find – with or without the sex scene and her Basic Instinct style legs apart moment (ahem).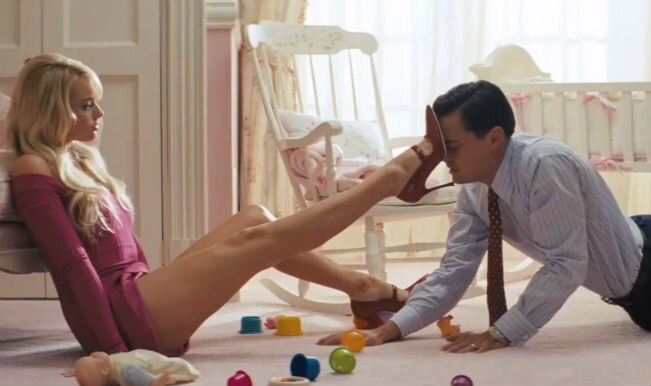 Jonah Hill delivers a great act as Donnie. Kyle Chandler impresses as the FBI agent Patrick.
But it's Matthew McConaughey as Mark Hanna who we think should've got more screentime. Yup, wasn't in the script but he gives a thumbs up performance in the beginning and sets the tone for the movie. Much like Christoph Waltz did in Inglourious Basterds (Quentin Tarantino).
The verdict
Of course, The Wolf of Wall Street will go on to become an effing classic. And of course, no question of it being a well made movie with good performances. But does it satisfy you as a movie-goer and an avid Scorsese fan? Um, no.
Sigh! But then, even Ek Tha Tiger's end seemed unrealistic to us – a Salman Khan film also based on a real life love story.
So, to cheer up Scorsese fans, here's what we think. Go for The Wolf of Wall Street if you have the patience to sit through three hours of listening to fcuk, fcuker and fcuking – and seeing some of it, too. Otherwise, wait for the DVD or Blu-Ray. It might come uncensored.
Rating: 3 stars *** (Entertaining)