Did you like Aamir Khan's look in his latest film Dhoom 3? The versatile actor has styled his hair differently in many movies. Initially, he sported the same hairstyle in his films since his debut in Holi and then Qayamat Se Qayamat Tak (1988) as lead hero.
But as Aamir reinvented himself and became choosy about his onscreen roles, he went the Hollywood way and made sure to have a new hairdo – and sometimes beard – for each character he played.
While some of his haircuts became very popular, it's not necessary they appealed to all. And definitely not to us! We list a few of the Bollywood actor's hairstyles that we did not like:
Dhoom 3 blond look – not used in the movie:
Hey Aamir, go easy. While the blond hair might look good on skin as fair as yours, it has to be the right blond and not the one used in Dhoom 3. What looks even more is perfectly dyed blond hair and jet black, arched eyebrows! Or even blond hair with streaks or ombre and blond. Aamir, what were you thinking? Thank god the stylists did not approve of this look!
Talaash – Cop look – short crop and moustache:
This can be in the list of the worst and most hurried hair and moustache designs onscreen. Every honest cop needn't have a moustache – that too, a fake one! As for the crop, the police definitely have one but Aamir's could've been more appealing. We now know the real reason Aamir's wife (Rani Mukerji) drifted apart from him in the film!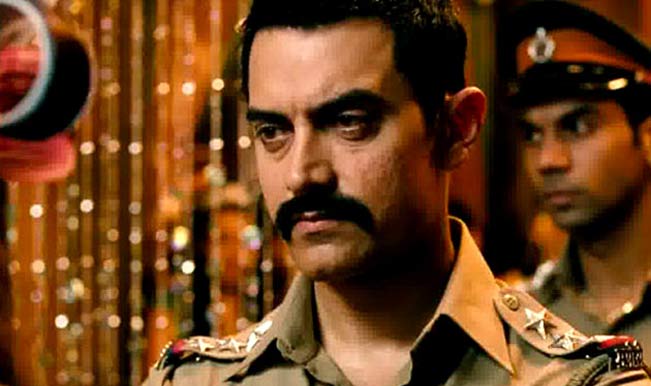 Delhi Belly chest hair – Tom Cruise's Tropic Thunder look:
Say it, pal. You copied the look for the Delhi Belly item song from Tom Cruise's own item song at the end of Tropic Thunder – and we mean the 'chest hair' style! As for the head, Tom sports a bald wig so while Aamir goes with a Rajesh Khanna-like long-haired wig. But for the chest, Aamir cleverly said he was inspired by the hairy Anil Kapoor for the look, when it was actually Tom! To tell you another secret, Aamir even copied Tom's dance. Sigh!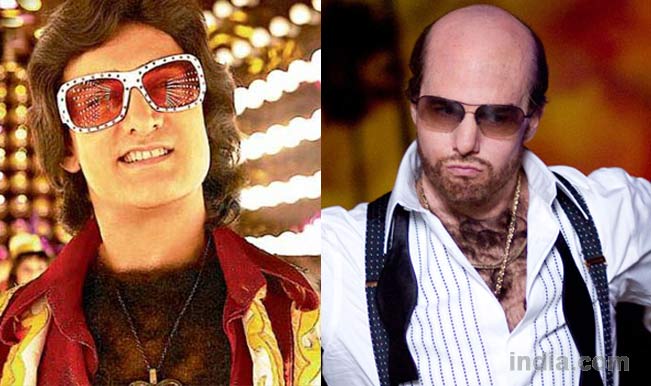 Ghajini – semi-bald buzz cut:
This might have made Aamir look very sinister, but the monster look was way too repulsive for his character. Hey Aamir you were not Ghajini the villain but Sanjay Singhania the baddie killer! But we liked the actor's other looks in the film, when he plays a handsome billionaire, but not what he becomes – the  monstrous murderer!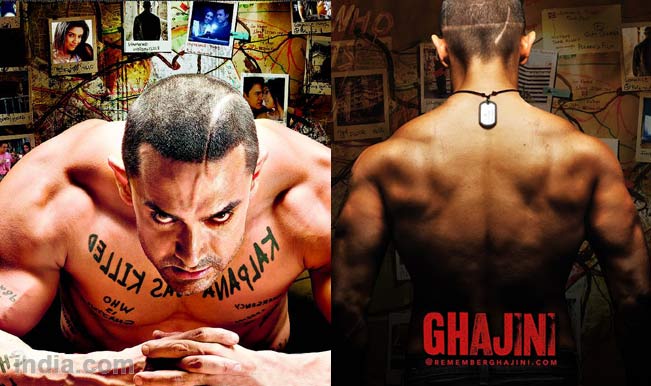 Fanaa – tourist guide-like long hair:
We actually love you in the smart hairstyle you sport in the second half of Fanaa – the army man-cum-terrorist one. But the long-haired tapori style of Rehan the guide in Delhi didn't go down too well with us. Aamir, it seemed like an extension of the hairstyle you had in Rang De Basanti – a film released just before Fanaa in 2006.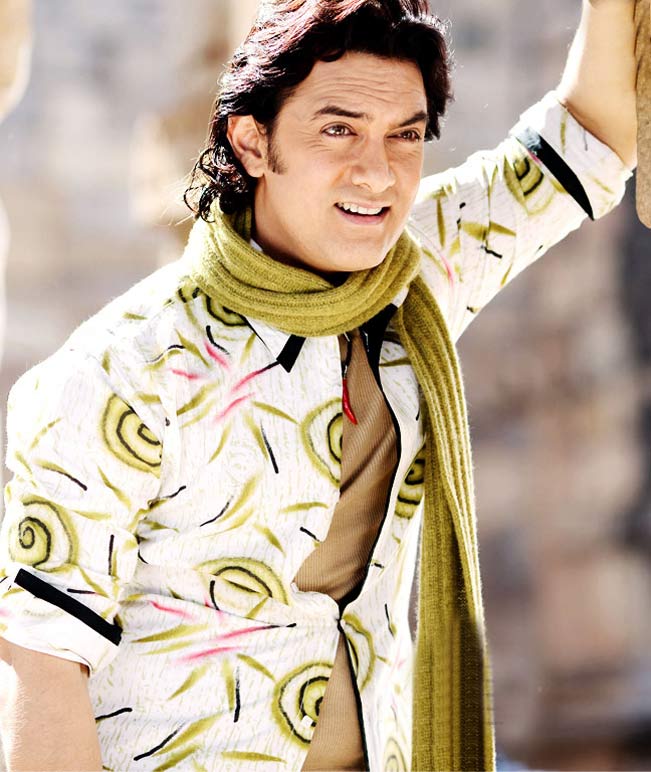 Aatank Hi Aatank – The Godfather ishtyle:
Guy-next-door meets The Godfather? The movie might be inspired from the classic, but the hairstyle and slim moustache didn't suit the personality you carried then, Aamir.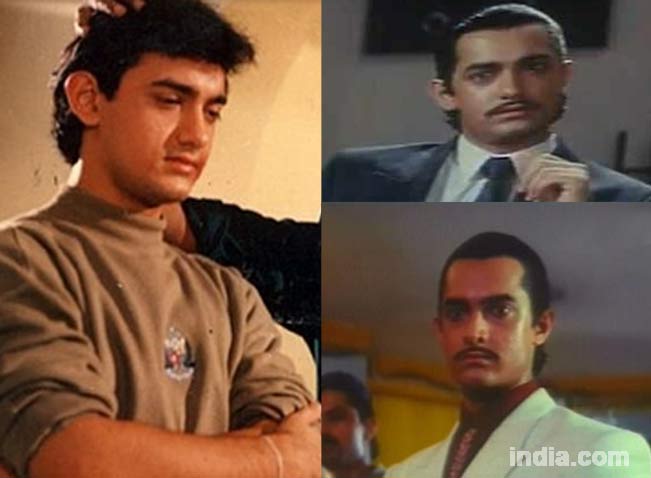 Mangal Pandey – The Rising – curly long hair:
While the curly long locks are not bad, we think they do not go with Aamir's boyish face. Neither did the handle-bar moustache. Moreover, when we looked the real Mangal Pandey's picture on Google, the freedom fighter sported a turban and didn't have long hair. We wonder why Aamir tried to reinvent the look.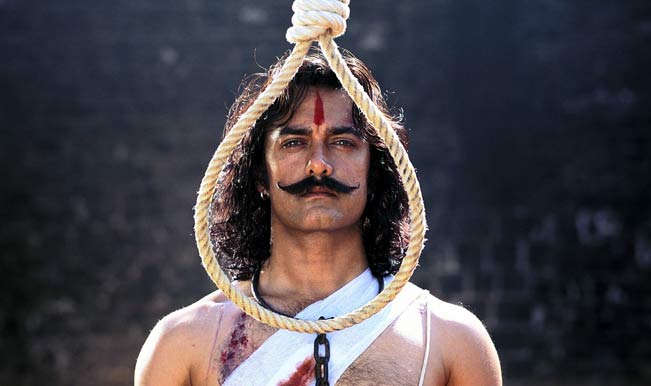 Sarfarosh and Baazi – fringe:
A police officer who keeps a voluminous, bouncy fringe? Since when has that been allowed? Aamir kept one in Baazi and years later in Sarfarosh. Most Bollywood heroes do that in cop dramas, you would argue. But Aamir is expected to be more serious and methodical about his roles, isn't he? Huh! Frankly, we preferred the undercover looks of Aamir in Baazi, including that of an item girl!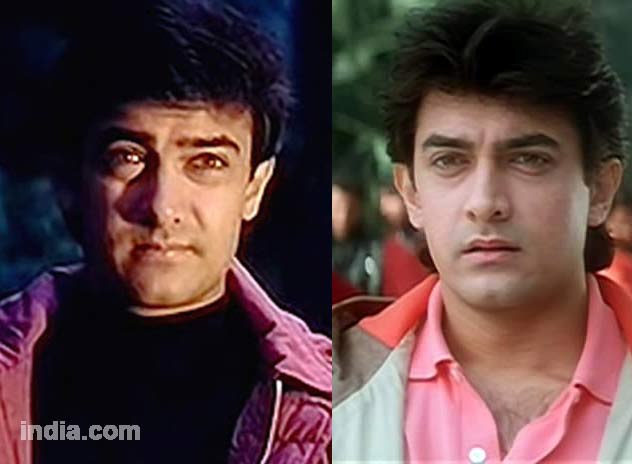 So which Aamir Khan hairstyle do you hate the most then?
Photos: Yash Raj Films and movie stills | Imaging: Amit Modak