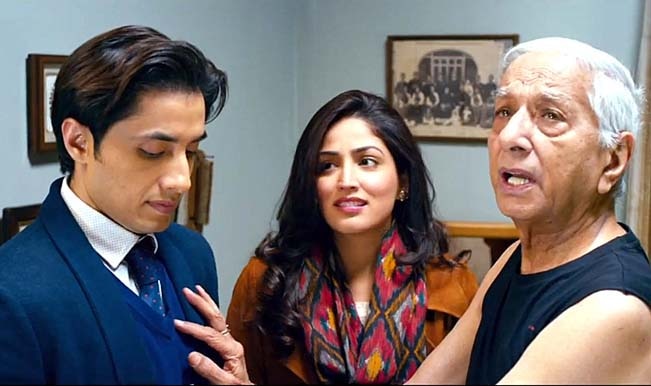 Directed by Eeshwar Niwas and written by Neeraj Pandey, Total Siyapaa lacks any kind of direction at all and seems like a sloppy effort at filmmaking. Yami Gautam brings home Ali Zafar, her boyfriend, all seems normal until Kirron Kher finds out that Ali is Pakistani while Yami and her family is Indian.
Sounds like the recipe for a laugh riot and that's what the trailer promised but with a heavy heart we have to say that the film disappoints on every possible level. Maybe the speed at which the trailer showed everything go terribly wrong should have been incorporated in the film so that it wouldn't have been such a half-assed effort.
Anupam Kher and Kirron Kher have both been wasted as actors with Kirron's role going over the top even for a hyper Punjabi mother and Kher is barely visible on screen.
Yami Gautam looks good and portrays her character well but like the entire cast, she has not been directed well and Eeshwar Niwas has really got a lot of explaining to do when you watch the film.
Sara Khan, Yami Gautam's nearly divorced sister adds to the failed craziness which has been attempted in the film by playing a seductress as she plays tricks on Ali Zafar. She does get a table top dance with Ali Zafar but the super slow and barely audible song spoils the fun. (Total Siyapaa creates problems for Shahid Afridi fans)
The film really tries hard to make you laugh and it has a few moments but that fails to escape the fact the from the very start, the film starts a nose dive like an airplane with no engines working which it is unable to get out of till the end before it crashes into a sea of failed attempts by the makers of Total Siyapaa. (Total Siyapaa trailer)
The cinematography is not settled, the film tries to sell London as a tourist destination but Namastey London did a much better job at that.
The background score by Sanjoy Chowdhary is apt and subtle which works despite the scenes falling flat on its ass and it really shows how apt music is better than a big band blaring at you that overshadows the scene. (Total Siyapaa is total madness)
The film tries too hard to impress us, there is a lot of overacting involved, the plot lacks conviction, there is an attempt to show national integration between Indians and Pakistanis but like Dhan Dhana Dhan Goal, the scenes just do not connect well, the comic scenes at times create an atmosphere where you would wait for a well timed punch but it comes too late putting you off to a snooze while the deadbeat music lacks soul. Except for the 'Palat meri jaan', the rest of the lyrics/songs are just an ill rehearsed murmur in the background. Total Siyapaa is a thoroughly disappointing film on all counts.