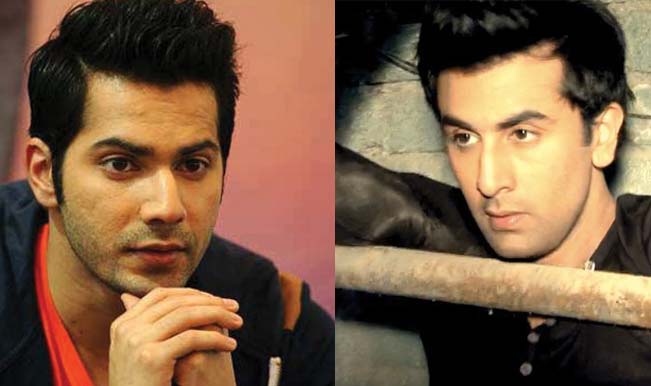 Varun Dhawan seems to be in crazy limelight thanks to his on- and off-screen antics. Whether it is his fans tearing off his shirt in excitement during one of the promotional activities of Main Tera Hero or him disclosing how he shares dirty jokes with his co-star Nargis Fakhri! All this is cool but taking on the power couple Ranbir Kapoor and Katrina Kaif may backfire, Varun!.
Since the trailer of Main Tera Hero has hit the market, audiences cannot help but notice the more than usual potshots the movie has been taking on fellow industrywallahs. Varun spoofed Ranbir Kapoor's Barfi! act to woo his leading ladies and it is also said that there is a parody choreographed by the actor himself on Ranbir's popular track Badtameez Dil from his 2013 release Yeh Jawaani Hai Deewani.
And with the latest dialogue promo of Main Tera Hero, it looks like it is Ranbir's beloved Katrina Kaif's turn to be mocked at. It has Anupam Kher telling Varun: "Kutte ki pooch and Katrina ki Hindi kabhi seedhi nahi ho sakti"! To this comes the witty reply from Varun: "Aaj kal uski Hindi theek ho gayi hai". Ranbir might be okay with his spoofs but an insulting remark over his girlfriend might not be tolerated!
Friends of Ranbir have strongly communicated of the actor's displeasure at the fun poked by Varun at much senior actors of the industry.
But Ranbir himself has downplayed all these rumours and has wished Varun success for his forthcoming film. We too hope it fares well at the box office, for if it sinks, he would be a lost case at both ends. Main Tera Hero is slated to release on 4th April, 2014. It stars Varun Dhawan, Illeana D'Cruz and Nargis Fakhri in leading roles.
(Disclaimer: There are no fight reports yet between Varun Dhawan and Ranbir Kapoor but just a little prediction would do no harm!)