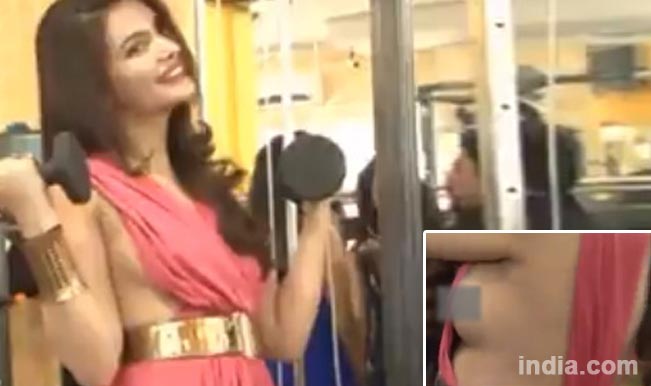 Indian film actress and ex-Miss India International Ankita Shorey had to face an embarrassing situation when she wore a rather revealing dress at a gymnasium launch recently. The former beauty queen was seen struggling to manage her assets, trying to hide a side boob show and ample nip slip.
Ankita indeed wanted to show off what she's got, but definitely not to the extent that she actually ended up revealing. Her pink outfit was sexy enough, but we wonder who the designer is. He/she couldn't construct it well. Or was it that it was 'designed' for a nip slip?
We're also not sure if the bra-less gown was suitable for a gym launch. Of course, Ankita couldn't have turned up in track pants, being a beauty queen and all. But a simple short dress would've done the trick.
Or was it some other 'tricks' Ankita was up to? Like deliberate wardrobe malfunctions? Quite possible, considering this is not the first time she has had a nip slip. In 2013, she had one on the ramp at the India International Jewellery Week 2013.
Do you think Ankita Shorey planned a wardrobe malfunction at the gym launch?