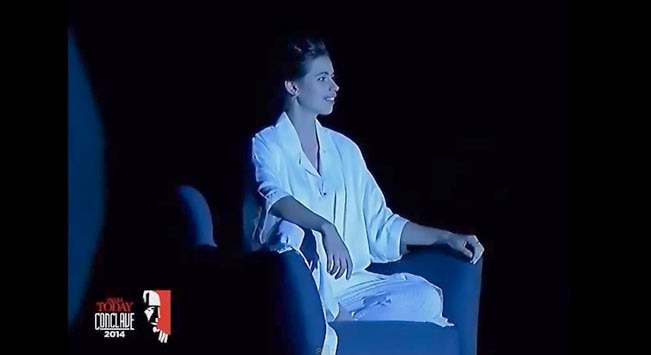 With a big sigh Kalki Koechlin starts with a nursery rhyme on 'God mad the man..MAN'. 'Looks like we were sidelined from the Big Bang.' Seated on a huge couch in a satin, white robe at the India Today Conclave, Kalki emoted one of the best performances of her life. Yes, a stunning performance on the painful 'Truths of Being a Woman' on the occasion of International Women's Day yet you know it came straight from the Dev D actress's heart.
Kalki Koechlin solo act titled 'An Expression By Kalki Koechlin – Le Femme Terrible' message was to send message across all MAN-kind to stop looking at the opposite sex as objects. In what could be termed as a monologue by Kalki, it comprised of poems, dialogues, rhymes ranged from the inequality and pain a woman goes through. She drops a hint of her painful marriage as she compares the unjust marriage of Draupadi to five husbands.
Kalki Koechlin talks about having grown up with always being stared at and we all women would agree in union of going through this traumatized savagery all our lives as well. The painful needs to be perfect, beautiful, smiling, in control, well-mannered and every-day directions to lead our own lives are pathetic. She talks about the times when she feels guilty of just breathing, as someone would notice her heaving. "So now even breathing is a crime for women?' Ridiculous but true in our society right.
Kalki had earlier been a part of All India Backchod (AIB) RAPE: It's Your Fault video, where she presented a light yet hard-hitting take on Rape. But with this monologue act, she goes beyond to say that the ladies should be looked as equals, it is their right and not something to be given in alms. They are as human as the men are, so treating them as princess to glorify them is not necessary.
Watch this hard hitting performance by Kalki Koechlin at the India Today Conclave.
Photo Credits: You Tube Grab