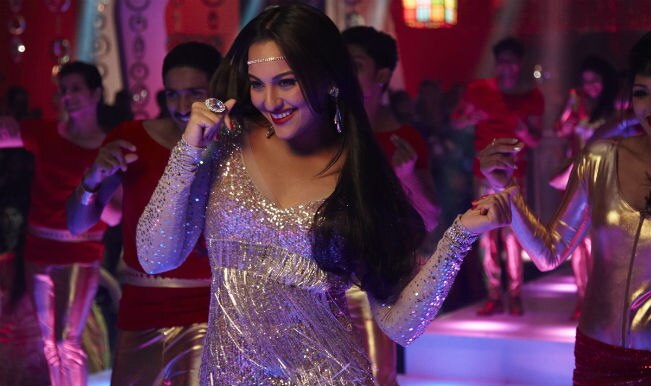 The lyricists came up with some really odd and weird songs in 2013. The icing on the cake was top actors shaking their booty on these numbers. So here it is – just for you the songs you would leave as bad memories of 2013.
Kaddu Katega – R…Rajkumar

Sonu Sood features in yet another Munni Badnaam Hui hangover item number as the baddie enjoying a provocative dance by busty women showing ample cleavage to the soundtrack of 'Kaddu katega toh sab mein batega'. Really? Who approved the lyrics and how drunk were they?
Party All Night – Boss

Oblivious to her aunty-type figure, Sonakshi Sinha dances with Akshay Kumar clad in skimpy dresses and to the soundtrack of Yo Yo Honey Singh's 'aunty police bula legi'.
Ishq Ki Maa Ki – I Don't Luv U

Mika's time to shine has passed it seems when most his songs pushing way past the lack of logic barrier. What has gotten into Ruslan Mumtaz for agreeing to do this film? Maybe he is better suited for the small screen rather than do films with such songs.
Babli Badmaash – Shootout At Wadala

The part Tron part Shehanshah attire of Priyanka Chopra coupled with a bell like haircut absolutely fails to impress the audience. With hyperbole lyrics in hit songs like Sheila Ki Jawaani and Munni Badnaam, Babli Badmaash tries to be a cutesy item number but fails miserably.
Pinky – Zanjeer

Priyanka Chopra tried to be the item girl of 2013 but failed again in Pinky hai paise waalon ki. Trying to integrate the masses by not discriminating between people from Delhi or Mumbai also failed with a complete lack of grace and half-hearted attempt at an item number.
Thank God It's Friday – Himmatwala

The audacity shown by Sajid Khan at every step of this terrible excuse for a film is -commendable. From remaking a not-such-a-great-hit even from its own time to putting up neon signs while Shatrughan Sinha's off spring moves awkwardly, at times trying to copy John Travolta's iconic Saturday Night Fever step, while donning what looks like a very fancy sleeping gown. This song really takes the cake for one of the weirdest songs of 2013.
Raghupati Raghav Raja Ram – Krrish 3
You can have Hrithik Roshan dancing and a song supported by the celebrated and extremely successful Shankar-Ehsaan-Loy but if the lyrics are of a devotional song set in a disco then only decades of worship by the producers can get it to work.
Don't Touch My Body – Bullet Raja

Mahie Gill has done some pretty odd roles and many questionable item numbers but this one has to be at the top of the crap mountain of songs. Listen to the song and tell us what you think of it.