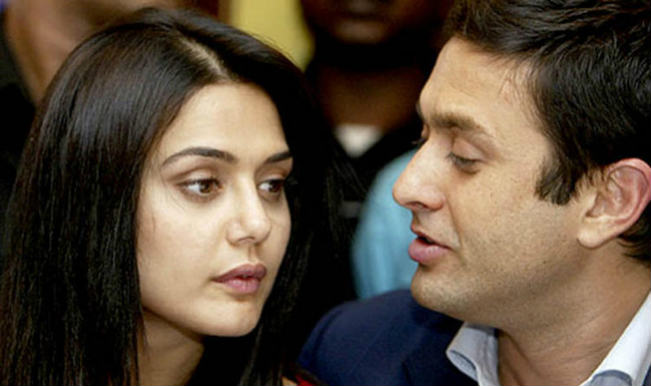 The Preity Zinta-Ness Wadia case is once again in the headlines with a dramatic twist now. Report about the statements from eyewitness and crew of Kings XI Punjab, is out with some shocking revelations.
An eye-witness has apparently stated that after Kings XI Punjab's defeat against KKR, the entire team including Preity and Ness flew back to Mumbai for their next match. Ness was seated in the front cabin of the flight with the coach of the team. There was a seat vacant between Ness Wadia and the coach. Preity was sitting at the back with the players and the staff. Because of the team's defeat in the match, Ness was discussing something important with the coach.
After some time, Preity moved from her place to the vacant seat between Ness and Coach. Preity and Ness were seen chatting with the coach for about half-an-hour. Everything was relaxed and easy-going between the ex-couple the day before their brawl. The couple was also seen smiling and it seemed that they were having a good time.
Preity Zinta has lodged a police complaint against her ex-boyfriend Ness of abusing and molesting her in full public view. The alleged incident took place during a match of Indian Premier League on 30th May 2014.
The major conjecture that arises is what the couple was discussing there. The friendship between both on the flight was clearly noticeable to all.
These statements now are encircling the doubt over Zinta's accusations against Ness Wadia. What exactly went wrong, so suddenly, between the ex-lovers that the fight went out of proportion and prompted Preity to lodge a formal complaints against the Wadia scion.