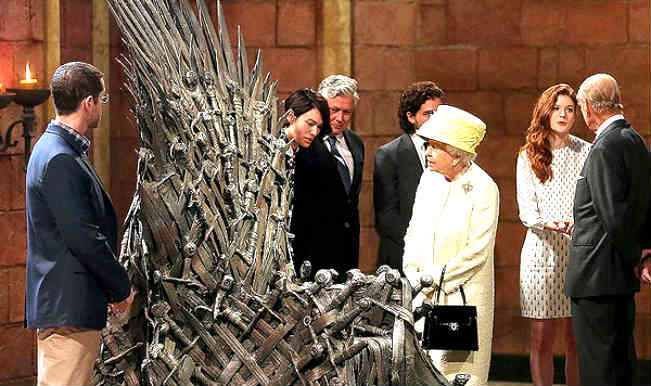 It was a moment of pride for the 'Game of Thrones' cast and crew when United Kingdom's 88-year-old monarch toured the Belfast sets of the hit HBO series Game of Thrones and met many leading stars of the series. The monarch was escorted by Game of thrones creators David Benioff and Dan Weiss while she toured the flamboyant sets of the epic drama series.
Queen Elizabeth, being the royalty she is, didn't use the famous 'Iron Throne' which is created for the mythical ruler of seven kingdoms. Instead, the royal received a miniature model of the throne. The royalty toured the show's armory, costume design and stretched sets used to shoot one of biggest grossing HBO series's interior scenes and perilous ice-cliff ascents which is all part of the biggest TV production ever mounted in Europe.
The real-life head of the House of Windsor talked with the leading loved and loved-to-hate actors which  involved primary royal rivals, the Lannisters and the Starks: Lena Headey who plays 'Cersei Lannister', queen regent of the Seven Kingdoms , Maisie Williams and Sophie Turner who play the 'The Stark sisters: Arya and Sansa Stark, Kit Harington who plays Jon Snow, the Starks' half brother and Rose Leslie who plays Snow's star-crossed lover, Ygritte.