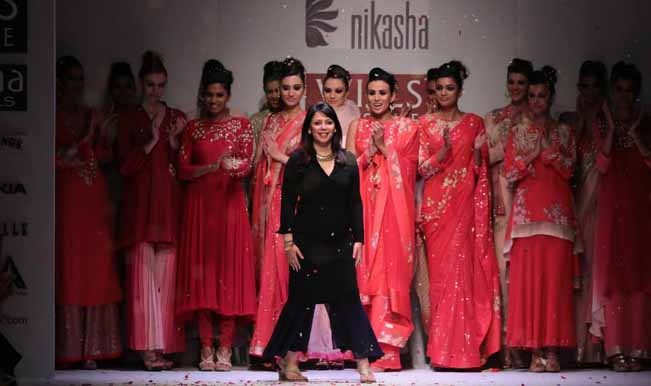 After the grand opening by Tarun Tahiliani for WIFW A/W'14, the other designers who followed kept us on our toes. Day 2 also had a great line-up of designers we were looking forward to. From subtle embellishments to tulles and feathers, we knew what to expect from the designers who were set to present.
WIFW is known to display some of the biggest talent from all over the country apart from pulling in buyers from the fashion capitals and the rest of the world. Day 2 just reminded us as to why we are a nation known for capturing colours, drapes, prints and the unique cultural aspects when it comes to fashion.
The day started with Kiran Jaisinghani and Meghna Agarwal of Myoho, the brand that brings forth easy, relaxed and organic earthy Indian handlooms to the forefront. The designer duo is known to dip traditional Indian textures in modern sensibilities giving it a contemporary language. Their A/W collection 'Soul Souk' was inspired by Morocco and consisted of crispy clean silhouettes, floral motifs and vivid prints. The pairing of intricately embroidered kurtas along with sheer parallel bottoms seemed to be the touch of contemporary in this collection.
Another piece, was a creation with asymmetrical cuts and flared hemlines which were given a new lease of life with its polka-dotted prints and side sequin details. However, our favourite garment from amongst the range of items that we saw had to be the striped orange maxi dress, which was given drapes on the side resembling a dhoti and very well teamed with a black tunic with a giant floral motif on the center. Ultra modern, we say!
Ever since we saw the work of designer Vaishali S at Lakme Fashion Week three seasons ago displaying her rich understanding of textiles, handlooms and interplay of colours, we knew that we were in for a treat this season through WIFW. This season instead of a plethora of brights, she stuck with whites predominantly apart from a a few charcoal greys, mustard and blacks. Flared peplums in organza, straight-cut dress with ruched detailing and paneled ruffles, willowy sleeves with a sheer bodice apart from her trademark loose pants-kurtas redefined chic-casual for us.  Each of her creation had a tasteful twist to it.
He's known for his no nonsense, brash, experimental and edgy sense of style and design aesthetic. Kallol Dutta is definitely one of a kind and this collection that pushed fashion to the extreme (in an Indian sense) was no exception. Fiery reds, orange, dull greys, whites and blacks were seen in a sensible mix that seemed all too comfortable yet stylish in a modern and western aesthetic. The use of drapes
with shirt dresses, maxi skirts as well as dresses was a great interpretation of fabric. We even loved the pairing of his garments, be it a casually wrapped around red and white printed saree or kaftan dresses with thigh-high slits- all in a pair of sneakers. We saw the round of sneakers at catwalks in London this season as well and Kallol Dutta managed to wow us with his eclectic creations brought out in yet another modern, simplistically luxe manner.
Rimzim Dadu is known for her progressive textures, experimental surfaces and creativity that stems from sheer simplicity. Her breathtaking collection 'My Village' was inspired by the Patola weave, a technique originally from Gujarat. Her choice of colour palette was grey infused with teal green, blues, purple and mustard yellow. The use of dyed cotton alongside lace, chiffon sheer, leather to bring out the east meets west aspect of layering, made for a very realistic yet grounded collection. Pattern playing in terms of chevron, checkered prints, diamonds as well as shredding, gave the entire collection a pleasing twist. We give this one a thumbs-up.
Yet another designer who managed to have our undivided attention all through was Nachiket Barve. His collection 'MAIA' was inspired by Maoris culture, one that's based in NZ complete with Ta Moko tattoos and the tribal Aztec prints captured the essence of the depicted culture in a surreal manner.
Palazzos, boxy tops, full-length gowns, short flared dresses and free flowing capes with print details made the collection an interesting one. Sheer fabrics were used in gown bodices to bring out the intrinsic sequin details apart from the use of georgette, crepe, velvet, Kiwi and Kea feathers, faux leather and silk. Another element to his collection was the fiber skirts with woolen applique.
What's the preferred choice- wearable glamour versus red carpet glamour? Charu Parashar's 'Blue Blood' was high on shades of blues, reds and blacks with full length off shoulder gowns running low at the back, sheer back detailing, plunging necklines along with decorative print patterns made for a very vintage-meets-contemporary collection. It was glamorous with precise elements of detail, structure and fluidity.
Amit GT is known for his dramatic textures, jewel tones and overuse of embellishments. This collection was no different as we saw a range of embellishments, frills, embroidery, fur and feathers. It reminded us of hideous prom outfits which we always (mostly) skipped due to lack of 'courage' perhaps. He did have few outfits, which stood out for us. However, overall we didn't see new or a different side to the designer.
Rahul Mishra's collection which ended the second day of the fashion week was a tad bit disappointing considering the expectations were running sky high after the designer won the prestigious International Woolmark Prize in Milan. It's hard to 'make the cut' at fashion weeks because if it's too different, it could go wrong. Else if the designer sticks with his forte he is known to be less experimental. We conjure up a picture of optimism to get through to the remaining days of the fashion week and leave you with few lingering thoughts.