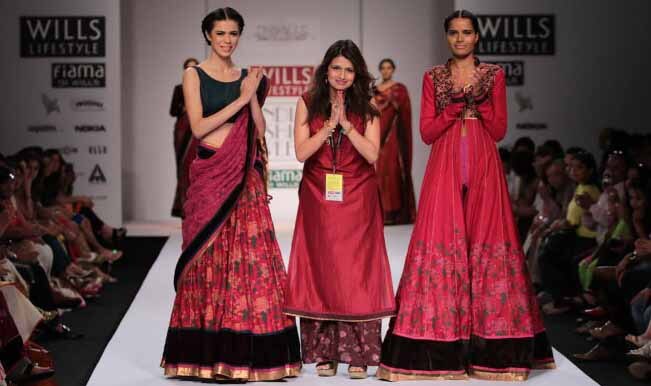 With 118 designers and 31 shows to look forward to, Wills India Fashion Week has progressively reached its 4th day. It had quite a number of shows and did see a packed house by the end of the day. However, a few of them left us with a lasting impression with their exquisite collection. Here's who dictated the trends this season for us…
Day 4 began with Hi-5, a range of five designers who were relatively new to Wills. From his spring summer WIFW debut in 2013, Josh Goraya has come a long way. His USP is that he understands his niche which is tailoring and working with prints. It's his attention to detail and form fitting that makes him Gen-Y's up and coming designer. His A/W collection 'Alter Natures' portrayed the similarities between men and women bringing out the stark and contrasting differences.
There was a lot of textile and pattern art along with the use of rich hues and embellishments that were kept subtle, Josh definitely knew how to make it work. From crisp silk shirts that had chiffon embroidery to leather jackets that had embroidery, his collection and innovative attitude seemed fresh and rather new age. A thumbs-up for this one!
Having been born in one of the oldest printing textile families in India, Benaras, designer Chhaya Mehrota understands her earthy fabrics to the fullest. She does her printing, weaving and embroideries in modern silhouettes in full bleed colours, which makes her garments stylish.  This season 'Heritage Haiku' was an ode to the freedom of women. Fabrics like wool, pashmina, cotton, silk and chiffon were used in a range of colours from baby pinks to beige and oranges.
We typically loved the high-low hemlines with simple gatherings and tassels that were seen on a contrasting black and white dress. The pop of colour on simple black and white with just one over-powering element was chic, understated and elegant.
Clean, fresh, vibrant- that's how we can best describe designer Ankita's SAAJ to you. Her collection was a sporty glam one based on the protagonist Arabella, the artistic fierce modern woman. We loved the structured colour palette combined with that edge of sportiness as well as highlighting the glamour aspect by using metallic hues. Her use of metallic colours like gold, rust, beige and peach along with sequins and geometric patterns beautifully complimented the sweatshirts, slouch cuff pants, shift dresses and high waist pencil skirts. Don't we all crave for simplistic glamour? Yes, that does exist.
Designer Sulakshana Monga who has been in the industry for more than two decades now presented her collection that left us spellbound. Though the designer dabbles in both Indian as well as Indo Western, her forte really lies in her western clothes that have traditional elements in them. With loads of bird and floral prints along with gold embroidery, her collection was high on aesthetic, design and couture. Jewel toned colours in fabrics like cotton, jute, brocade and chiffon brought out the vivid designs and patterns. The see-through patterns in full length dresses or princess-cut gowns in layered chiffons as well as structured short dress with fitted striped sand beige jackets made for a muted, modern and classic collection. Sulashana's menswear collection was noteworthy as well. Think of straight cut pants in maroon or beige teamed with equally matching shirt suits or waistcoats with structured shoulder details- definitely dapper and sophisticated we thought.
Another label known for its intricate work along with detailing is Rabani & Rakha that consists of Gautam Rakha and designer duo Shivani & Rahul Rastogi. The label has completed 15 years in the industry and is known for it's skillful blending of tradition and elegance. Infusing Indian modernity along with western silhouettes, their collection was luxurious yet modern in every way. Shades like ox blood, deep peacock tones, ink blues were seen with metallic and shimmer for that touch of glam. So, floor-grazing gowns cinched at the waist and empire line dresses with zardosi and tonal sequins made for graceful looking ensembles.
There's a reason that Aneeth Arora was the chosen one for the first season of Vogue Fashion Fund- she's really good at her work. Her simplistic designs and knowledge on handicrafts really works in her stride. From cotton lace trimmed pants, hoodies with checkered patter on the inside, contrasting print trench coats, leather skirts worn with a relaxed jumper layered in stripes was the perfect wardrobe for the winter meets rainy season. Gum boots, leather drawstring bags, snow caps, printed woolen stoles, textured hobos added that touch of relaxed style to pocketed short dresses, boyfriend jeans as well as midi length skirts. If you need to feel cosy, warm and still stylish- this is your wardrobe must-have, we say!
We could not have asked for a better ending to our Saturday night but in the company of Pankaj & Nidhi. Their collection 'House of Cards' was the inspirational from the countless patterns that dominate the deck of cards on both sides. The result? It was like watching a pack of cards come out alive and play the game. From capes, turn-back jackets, Spanish boleros, midi skirts, high-waist pants and skirts with detailed gold cord work, this collection had every inch of character, glamour and style. Even the choice of colour palette ranged from mint green, powder blue, vermillion, gold to black and whites worked in tandem to bring out the numerous pattern-work and embroidery that was so finely crafted. The original baroque was given touches of the designer duo which kept the usually heavy gold clad brocade influences at bay instead bringing out graphic prints and an infusion of various patterns.
With an ending as perfect as this one we build our hopes up to the last day of the fashion week.