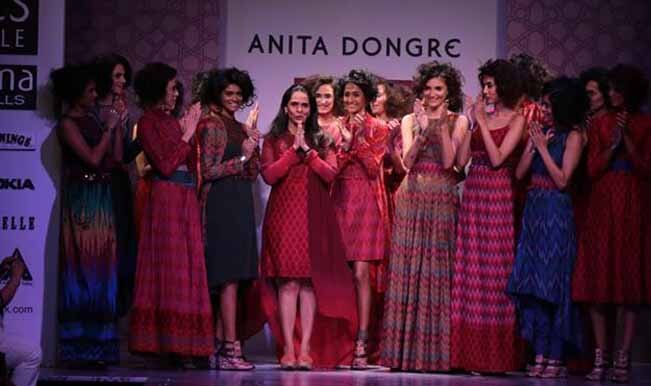 After four days of various silhouettes, designs, prints and fabrics, it's almost that time of the month of fashion that we have to bid our seasonal goodbye to. The last day of Wills India Fashion Week had two great shows for us, the opening show as well as the much talked about grand finale by Namrata Joshipura that had the social circles abuzz with her edgy meets extreme collection. Here we bring forth the hits of the 5th day… (Read: Kangana Ranaut almost trips on the ramp)
The day began with Shruti Sancheti's Pinnacle, which was dedicated to the women of the 19th century, the period in recorded history as 'Raj'. Thus, it was inspired by the whole traditional east meet fashionable west thereby creating a unique range of skirts, dresses, anarkalis which amalgamated the two opposing cultures in full harmony. Feminine and starkly English colours like navy blue, crimson, burgundy, deep purple and teal made a splash on the ramp in the form of intricate cutwork, surface ornamentation and asymmetrical cuts. (View: Wills Lifestyle India Fashion Week Grand Finale in pics)
It was interesting to see her use of fabrics like velvet, raw silk along with pure woven silk with inspired silhouettes from the Edwardian era transported us back in time. We loved the hemlines dunked in gold, flared palazzos; layered maxi dresses in subtle floral prints as well as sarees with collars and ¾ sleeves. Very regal, imperial and charmingly English, we say!
For someone who has gained training under Rajesh Pratap Singh, designer Mrinalini has come a long creating her niche but maintaining the aesthetic that she learnt well from her master. Her A/W collection 'Kashmir' was picked up from raw, broken threads of tapestry sown back together creating a refreshingly fresh collection.
We saw everything from bomber waistcoats, shawl skirts, salwar pants teamed with snug fit kurtas, waistcoat jumpsuits and, bandhgalas along with silk skirt churidars. Winter-y and somber colours like olive, tan, blacks, army green in khaki, silk, tussar and cotton in phiran silhouettes symbolic of the Kashmiri culture.
Jenjum Gadi's seasonal collection Turkish delight was inspired by the travels through Turkey with all its Iznik art, history and which was popularized by the Ottoman Empire. His innovative embroidery, art of texturing, mixing fabrics, which he combines with know-how of various stitching techniques make it a delight to watch his collection come alive.
Brights like cobalt, red, and turquoise were used. The designer created motifs using fine threads and beads that paid its due tribute to the culture and justified the Iznik art aesthetic rather well. Overall the collection seemed funky, edgy and absolutely high on fashion.
Colours, vivid prints and patterns that tell a tale of traditional India but is rather representative of the modern aesthetic, is designer Anita Dongre's specialty. This season, her muse for this season was Nayantara- the exquisite Jaipur bride. A mesh of patters in modern silhouettes and accents packed with satins, crepes, georgettes, silk knits and chiffons made for a rather modern gypsy collection. We are big on the bohemian gypsy vibe and there's no doubt that the designer does it very well.
Warm hues like browns, olive, plum and indigo patched with digital prints, beadwork and folk-inspired art showcased her expertise in sartorial choices- one that hardly ever goes wrong. Sheer capes worn over short dresses, voluminous full gher skirts, asymmetric jackets, pocketed full-sleeved maxi dresses made for an eclectic meets traditional folklore collection.
A DJ, drummer and an electric set- this isn't a movie set that we are talking of but the ramp that was witness to a grand finale which was the perfect way to close the five-day fashion extravaganza. Who better but the chic and edgy Namrata Joshipura as the appropriate finale designer? Her new range 'Electron' was inspired by the future and had details of graphic prints, reflective suits, texturing and the use of twisted fabrics to showcase the vibrant autumn winter collection.
Gladiator headgears, sheer dress worn over a lace body suit, thigh-high slit knee length skirts worn with knee-length boots with shimmer and sheer details- it looked glamorous an futuristic in terms of design. The plunging necklines or equally deep backs, opera gloves in fabrics like perforated and woven leather, chiffons, lace and silk with strips of embellishments made for a bold collection. Sweatshirts, slim lapels, fully buttoned shirts with bits of sequins and a dash of punk added a whole new level of sexy to the ramp.
Kangana Ranaut was the showstopper for the finale and she looked every inch ravishing in a strapless silk black gown that bore metallic sequin work on one side of the gown. With her curls tied up, blushed cheeks and hint of gloss; she looked chic and effortlessly radiant.
That brings us to the end of the autumn-winter edition of the fashion week. We've seen the hits, misses as well as the big trends that will rule the wardrobe. How much business the fashion week is going to generate for the designers is a debatable topic. However, we simply end on a positive note and hope that all's well that ends well.