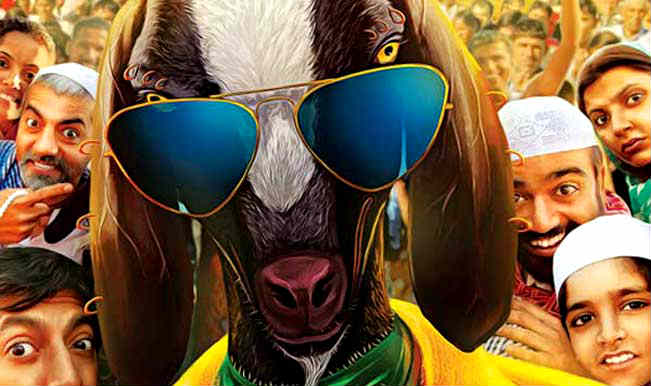 Watching a movie that has only three people in audience is enough to arouse doubts in your mind, but you still give in to your expectations of watching a low-budget slice-of-life movie. So begins, Yeh Hai Bakrapur – a political satire with a social message pertaining to the Hindu-Muslims is a good thought by director Janaki Vishwanathan.
Yeh Hai Bakrapur – starts with a young boy Zulfi's love for Shahrukh (not the Kolkata Knight Riders owner) but a well bred goat or let's say Bakra. While his love is never-ending, so are the problems of the Qureshi's family, who want to sell it off and get some money of it. Enters Zaffer played by Anshuman Jha that is your typical cool 'dewwd' in love with his sister and decides to help him with a quirky solution.
Janaki's idea of portraying the hypocrisy prevalent in our society and befool the people on the name of god, Lord Shiva for Hindus and Allah for the Muslims is brilliant. Even the star cast of the movie is well chosen – the Qureshis, around which the movie is revolving. In particular the highlight has been ever bickering Suraiya played by Suruchi Aulakh and Asif Basra as Peer Saheb will remain etched in your mind. You will love them all. Everything is good till you realize the movie is going in a loop and has no substance in it.
Honestly after watching original Shahrukh Khan's starrer My Name is Khan where the plot is of five minutes but dragged to three hours, Yeh Hai Bakrapur has managed to follow that movie for sure, as there is nothing to watch or preach. What could have turned into a good, watchable movie turns out to be a sheer disappointment. You feel like saying 'I would rather go out with a goat, than watch this movie'. Makes no sense, so does this movie.
Rating: 1 and 1/2*