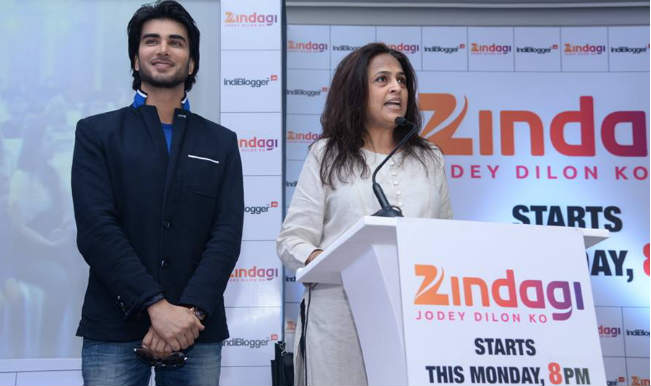 Zee launched a new entertainment channel 'Zindagi' that breaks all differences between India and Pakistan with their new set of soaps. It is the first time an Indian TV entertainment channel is promoting mutual harmony between the two countries by airing soaps which will have lives of Pakistani people.
Ahead of their launch the channel held a meet with around 500 bloggers from Mumbai and Delhi. Present at the event was one of the leading Pakistani TV actor, Imran Abbas. The channel which went on air from Monday will initially have Pakistan TV's top rated shows but will later air global content from places like Bangladesh, Sri Lanka, Latin America, Egypt, Iran and Turkey.
While talking about how similar the lives of Pakistanis are to that of Indians, Imran Abbas said, "The culture, food, values and lives of people are same in both the countries; we are from the same soil. It is only some political turmoil and misunderstandings that causes difficulty, otherwise everything is the same."
When asked about the upcoming shows, he said, "We make soaps of 25 episodes, which makes the story to the point and precise. We do not believe in elongating stories just to fill in space."
Woman broadcaster from Pakistan, Sultana Siddiqui also joined the meet through web forum. She said, " There is a huge fan base for Indian soaps in Pakistan, Indian serials are top rated here, we hope similarly Indians would love and support ours."
A channel official also said that there would no high drama, mahaepisodes, loud and garish make ups or much hyped deaths and births of people. With the screenplay so real and crisp, there's no scope for it to be boring and the shows will end in a month. They also have a new concept of short film that will be aired every night, in which a woman's story would be described, which will have Kirron Kher as the sutradhar. Two of the soaps that are going to be aired soon are Aunn Zara and Zindagi Gulzar Hai.
Zindagi Gulzar Hai will air at 8 pm and Aunn Zara at 8.55 pm, Monday to Sunday on new Zee channel Zindagi.