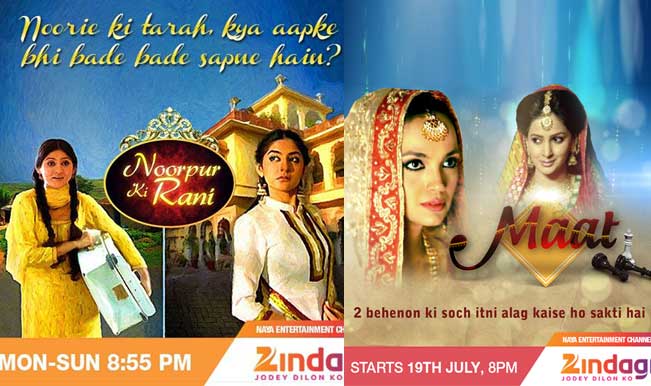 ZEE TV's newly launched channel, Zindagi has kept its promise ofoffer fresh programming every month. It has only been three weeks since the launch of Zindagi and the channel is all set to pioneer new shows as one of its celebrated shows Aunn Zara came to an end and Zindagi Gulzar Hai will end on the July 18.
As promised, the newly launched channel, Zindagi, has come up with two new shows this month - Noorpur Ki Rani and Maat with former replacing Aunn Zara and latter to air on the slot of popular show Zindagi Gulazar Hai.
The story of Noorpur Ki Rani revolves around contrasting characters of Noorie and Princess Rania. The beautiful Sanam Baloch will play the character of Noorie, the main lead of the show. Noorpur Ki Rani also stars veteran actor Naumaan Ijaz in an important role. The show went on air from July 13.
Maat is the story of two sisters, Aiman and Saman who are like chalk and cheese – complete opposites. Aiman is generous and Saman is the mean sister who always tries to snatch whatever her sister has. Maat will be aired at 8:00 PM from July 19.
Shows from Pakistan are high on content and quality and are featured on new Zee TV channel Zindagi – Jodey Dilon Ko, a first-of-its-kind initiative, beaming entertainment and content from that side of the border here.