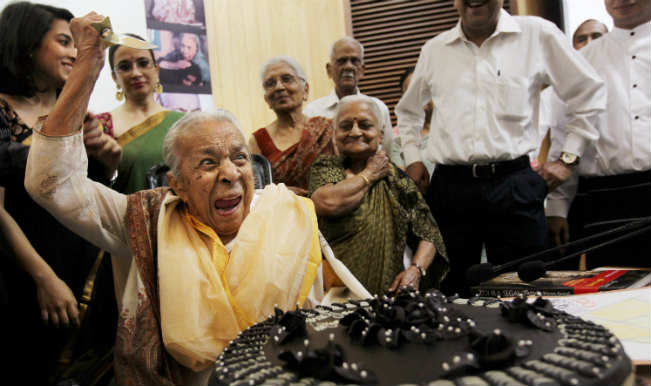 Lovable acting legend Zohra Sehgal passed away in New Delhi on Thursday at the age of 102 years. The Padam Vibhushan awardee breathed her last in a New Delhi hospital around 4:30 PM.  Her daughter Kiran told the PTI that she died of cardiac arrest this afternoon. She was unwell for the last few days. Sehgal would be cremated tomorrow at 11 AM at the Lodhi Road crematorium.
The news was broken in the night by historian Irfan Habib who tweeted, "Just confirmed that Zohra Aapa is no more…"  In another tweet, he said, "Extremely sad to know about d passing away of Zohra Sehgal, a woman who lived a full life on her own terms. Great loss to art and culture. RIP."
Offering his condolences, megastar Amitabh Bachchan tweeted,"Zohra Sehgal passes away at 102 yrs ..what a journey and what an immensely loveable co star ! Prayers for her blessed soul!!"
Sehgal was born on April 27, 1912, Saharanpur, Uttar Pradesh, third of her seven siblings and grew up in Chakrata near Deharadun.
Sehgal, a vivacious personality, started her career as a dancer with Uday Shankar in 1935. She had appeared in many Bollywood films as a character actor as well as in English language films besides television series and plays.
Born on April 27, 1912 in Saharanpur in Uttar Pradesh in a traditional Muslim family, Sehgal, third of her seven siblings, grew up in Chakrata near Dehradun and was sent to Lahore to pursue her higher education. She was a tomboy- fond of climbing trees and playing games. She lost her mother while still very young. Upon graduating, she left for Europe where she learnt Modern dance from Mary Wigman's ballet school in Dresden, Germany. There she got the chance to meet legendary dancer Uday Shankar. She then became a part of Shankar's dance troupe and toured the world with the troupe.
She married scientist, painter and dancer Kamleshwar Sehgal in August 1942. The couple had two children Kiran and Pawan.
Considered a doyenne of theatre, Sehgal acted with Indian People's Theatre Association (IPTA) and Prithviraj Kapoor's Prithvi theatre for Fourteen years. Apart from acting in theatre, she choreographed for a few Hindi films as well, including Baazi (1951) and the dream sequence song in Raj Kapoor's Awaara. Sehgal moved to London on a drama scholarship in 1962, where she appeared in many TV productions including The Jewel in the Crown, Tandoori Nights and My Beautiful Laundrette.
Returning to India in the mid-1990s, Sehgal acted in several films, plays and TV series.
Often called the grand old lady of Bollywood, she last appeared in Sanjay Leela Bhansali's "Saawariya" (with Ranbir Kapoor and Sonam Kapoor) in 2007. She acted in hits like "Cheeni Kum" (with Amitabh Bachchan), "Dil Se" (with Shah Rukh Khan and Manisha Koirala), "Veer Zaara" (Shah Rukh and Priety Zinta), "Hum Dil De Chuke Sanam" (Salman Khan and Aishwarya Rai), "Bend It Like Beckham", Masala (1991), Dillagi (1999), Kabhi Khushi Kabhie Gham (2001),
In 2008, she was named the Laadli of the century by the United Nations Population Fund(UNPF). In 2012, daughter Kiran wrote Sehgal's biography named "Zohra Segal: Fatty". Kiran, herself an Odissi dancer, expressed grief that during her dying days, her mother could not even get the government flat she had asked for.
"She was always so full of life and energy. I am in very different state of mind right now… But, what is more tragic is that during her dying days, she could not even get the government flat she had asked for," she told PTI.
Filmmaker Madhur Bhandarkar paid his homage by sharing a vintage picture from the 1940 on the micro-blogging site.
"Zohra Sehgal, during a stage performance…" he said on his account.
Union Information and Broadcasting Minister Prakash Javadekar too expressed his heartfelt tribute.
"My condolences on the sad demise of the veteran actress Zohra Sehgal. Her legendary contribution in the field of art & cinema will live on," Javadekar tweeted.
Television producer Siddharth Basu tweeted, "Forever young at heart & in spirit even at 102, the irrepressibly endearing Zohra Sehgal finally belongs to the ages. May she rest in peace."
Actress Diya Mirza also joined in paying her tribute to the "grand old lady" on Twitter. "102 years of greatness. I will always love you. Zohraji. RIP. #GrandOldLady of #IndianCinema. #ZohraSehgal." Mirza said.
Actress Priyanka Chopra called it an honour to know the centenarian, who wowed everyone during her lifetime with her matchless reserves of energy.
"102 n a legacy that will always be a part of India cinema. It was an honour to know #ZohraSehgal and to be a part of films while she was. RIP".