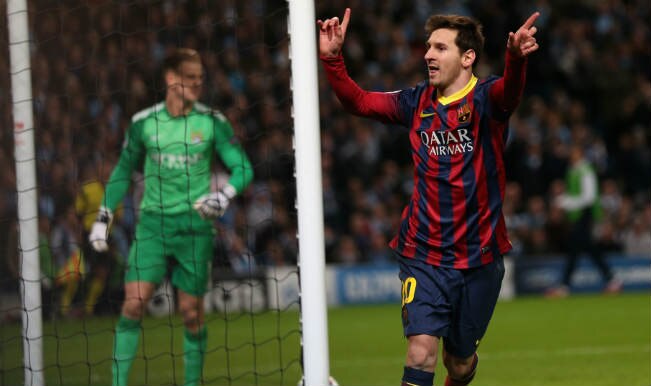 How many of you actually believed Manchester City could trounce FC Barcelona in yesterday's Champions League clash? Not many we guess. Well we are not saying ManCity is not that great playing side but it would come second any day playing against Barcelona. Catalan Giants handed a 2-0 defeat to the 10 man team, as Daniel Alves netted a crucial 90 minute goal to seal the first leg of leg of their UEFA Champions League last-16 encounter at the Ethiad Stadium.
Barcelona have won the first round at Manchester City's home turf and now the shift will focus to the second leg of league taking place at Camp Nou Stadium. Let us take a look at some of the highlights of the match.
1. This match is also the first official meeting FC Barcelona and Manchester City in the history of the game. They have faced each other on six friendly matches.
2. Barcelona registered their first win against the Manchester City at the Ethiad Stadium with their 2-0 win in the first leg.
3. Manchester City will have to be really pumped up going into the second leg at Camp Nou, as Catalan Giants have never lost a match to a Manchester United on four occasions. But the motivating news for them is another English club, Chelsea beat them on aggregate 3-2 in the semi-finals before.
4. Camp Nou means 'new stadium' is the largest stadium in Europe. The current renovation project for the Camp Nou has an estimated building cost of €300 million.
5. The match also marked the first outing of the young Brazilian player Neymar on the English soil.
6. Barcelona registered theirs eighth win over the English club having played against them for 30 times!
7. Barcelona also registered their first victory in the city of Manchester. They have never tasted success playing Manchester United on previous for occasions at this city.
8. With a rather comfortable win at the opponent's home ground, Barcelona would be keen to make it to seventh quarter-finals appearance in a row, by winning on aggregate at the end of the round.
9. Manchester City might have lost their first dual against Barcelona, but they have made it to Champions League Last-16 for the first time.
10. Barcelona is aiming to win the European Football's top competition for the fifth time. They have previously achieved the feat in 1992, 2006, 2009 and 2011.
Watch Dani Alves crucial goal against Manchester City, taking his side 2-0 in the first leg.