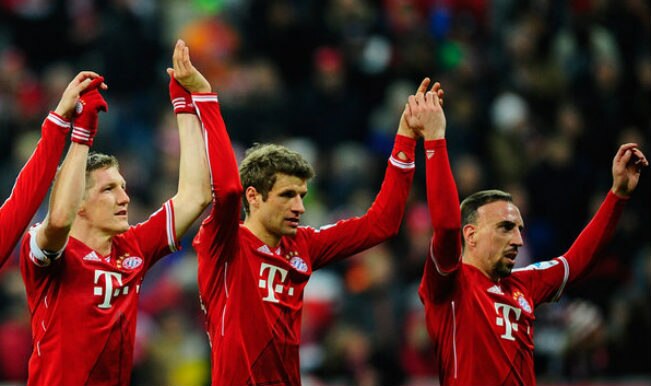 Bayern Munich clinched the Bundesliga under former Barcelona manager Pep Guardiola in record-breaking style this season. Even before the Bundesliga has been drawn to a close for the season, Bayern have terrified all opponents to claim their second consecutive title and are favourites to claim everything in their path. Even the Champions League! The trophy that the German powerhouse are currently defending.
If Bayern Munich indeed do claim the DFB Cup and the Champions League this season, they will claim an astonishing second treble in two consecutive seasons! A feat that no club has dared to imagine. Let's have a look at the records that Bayern Munich have and could make:
1- Bayern claimed their 24th German league title with a 3-1 win at Hertha Berlin as Pep Guardiola's European champions claimed the domestic league title with seven games to spare.
2- Pep Guardiola secured the Bundesliga title in record time on Tuesday, then promptly praised the work of his Bayern Munich predecessor Jupp Heynckes, whose record the Spaniard broke.
3- Bayern's 19th consecutive Bundesliga win also extends their record unbeaten league run to 52 matches.
4- The Bavarian giants broke their own record for the earliest confirmed league title win, set last April under Heynckes en route to the treble of European, league and cup titles, by one match.
5- Germany midfielder Bastian Schweinsteiger, who has won the Bundesliga title for the seventh time in his career
6- Bayern have won the Bundesliga title with a record seven games to spare. The previous record was the six games left that Bayern won the title with last year.
7- Bayern have won their last 10 away matches in the league. The old record was nine – again, set by them last season.
8- Bayern Munich have won their last 19 games – a Bundesliga record. The previous record was 15, set by Bayern in 2005.
9- Pep Guardiola has yet to lose a league match since taking over in the summer – in fact, Bayern have not suffered a Bundesliga defeat in 18 months.
10- They have scored two goals or more in each of their last 19 wins – also a league record.
11- This is Bayern Munich's 24th German (and West German) title, another record.
12- Bayern have won 25 matches in the Bundesliga this season. The record is 29, set by them last year.
13- Bayern Munich have clinched the earliest league title in Bundesliga history. They took until 6 April to do it last year – the previous record.
14- Bayern's 27-game unbeaten run to start a Bundesliga season is also a record. Bayer Leverkusen's 24 at the start of 2009-10 was the old landmark. If they see the season out unbeaten, they will break AC Milan's record of 58 games (1991 to 1993) for Europe's top-five leagues.
15- Bayern manager Pep Guardiola, appointed in the summer, has not lost in his first 27 matches in the Bundesliga. Kaiserslautern's Karl-Heinz Feldkamp (1978-79) had the old record with 14.
16- Bayern Munich have not lost in 52 Bundesliga matches, a run going back to October 2012. Hamburg had the old record of 36 games unbeaten in 1982 and 1983.
17- They are on 77 points. The record for a Bundesliga season is 91 (set by Bayern last year). They can finish on 98 if they win their remaining seven games.
18- They have scored 79 goals in the league this season. They need another 23 to set a new goal-scoring record in the Bundesliga. Their 101-goal haul in 1971-72 is still the record.
With the innumerable records that Bayern Munich have made this season under their new manager Pep Guardiola, it seems that there's no one capable of stopping them from claiming a remarkable achievement. The season is yet to finish and Bayern have yet to meet Manchester United in the Champions League. Which other records can they break by then?