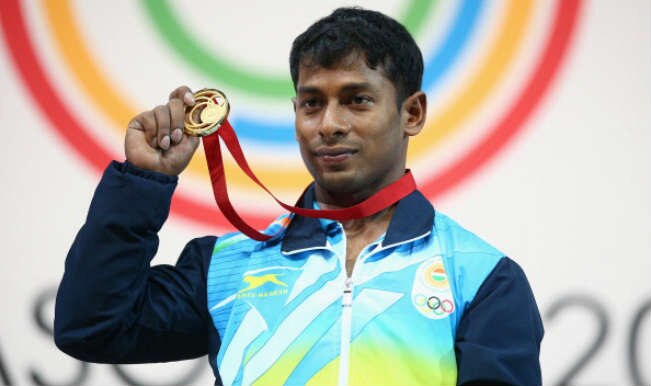 Sukhen Dey, who did India proud with a gold medal in men's weightlifting in 56 kg category is extremely hurt with all the insults, humiliations and snubs from the West Bengal Government that he has received in the last four years. Sukhen, who hails from rural Bengal, belongs to a very poor family. His father is old and non-earning while his brother is a bus driver.
Sukhen, who won a silver medal in 2010 Delhi Commonwealth games, was promised cash reward and a flat from his state government. While he received the cash he never received the house. In fact he is the only one amongst the six athletes from the state who has not received the house. The other medal winners from 2010 CWG have all got their flats while he is being made to run from pillar to post. His current home is pretty old and in bad shape and the ace lifter says that his family doesn't have enough money to repair it.
Sukhen who is currently employed with Services got promoted to the junior commander level after his heroics in the last games four years back. He is expecting to bag another promotion after winning gold in Glasgow.However, his disappointment with the Bengal government is growing by the day. The weightlifter alleges that he called up the Sports Minister of West Bengal government, Madan Mitra sometimes back but the minister behaved rudely with him and even refused to recognize him.
In his media interaction, the gold medalist said that while athletes from other states such as Rajasthan, Haryana, Hyderabad, Tamil Nadu, etc. are showered with awards and cash prizes after their victory in International circuit and CWG, there is no such thing happening in West Bengal. The disappointed Sukhen said, "I feel ashamed to identify myself as an athlete from Bengal". He feels that he is being discriminated because he comes from a poor family.
The betrayal, insult and humiliation are clearly evident from his words. The athlete however regained his composure and added that he is already preparing hard for the next big competition coming up in the form Asian Games, where he acknowledged that the challenge would be even tougher.
It must be recalled that the West Bengal government had organized high profile celebrations for actor Shahrukh Khan owned Kolkata Knight Riders when they won the Indian Premier League. The state government in the past has also felicitated sports persons from all fields, actors and singers who are in the public domain for their achievements. It however seems that's not how they look at Sukhen. One just hopes that this is not how our athletes are treated and better sense prevails in this case!