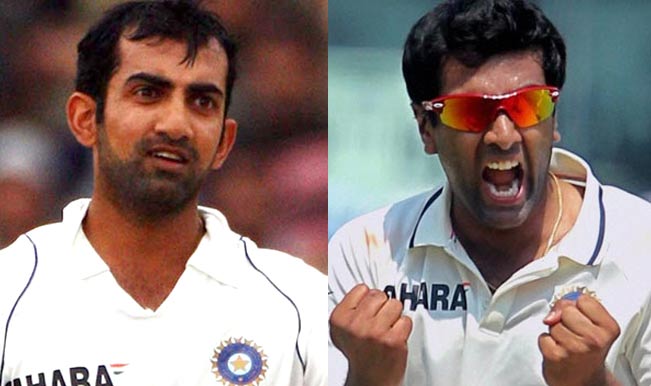 After securing a 1-0 lead India could not hold onto the momentum and let England off the hook to level five match series 1-1 in the third Test at Southampton. Team India faced criticism for persisting with out of form players and not playing frontline spinner Ravi Ashwin. Now, going into the fourth Test which starts this Thursday it is almost certain that India will implement few changes to the playing XI that featured in the third Test. We narrow down on three main reasons why India should opt for opener Gautam Gambhir and spinner Ravi Ashwin in the approaching fourth Test at Old Trafford.
Out of form Shikhar Dhawan: Left handed opening batsman Shikhar Dhawan has been a weak link in Indian batting. The opener has scored aggregate of 122 runs in six innings, while his opening partner Murali Vijay has been in top form. India already have spare opener in the reservoir in-shape of Gautam Gambhir who is looking to make a comeback and will be famished to score plenty of runs. Dhawan already has got his share of opportunities in starting three Tests and evidently he has struggled in each of his outings. It is time India replace him with Gambhir who has been waiting in the wings.
Missing impact spinner: While Moeen Ali has caught Indian batsmen dumbfounded Ravindra Jadeja has failed to spin England into trouble. Jadeja was touch unplayable at Lords in 2nd innings but the left arm spinner failed to pick wickets. There is very less variety Jadeja brings into play and at times he becomes predictable with his line and length. Ravi Ashwin is the lead tweaker in Indian squad and why Jadeja got nod ahead of him was primarily because of Jadeja's ability with the bat, but if India has to win a Test they need to pick wickets and to do that frontline spinner should be playing.
Gautam Gambhir & Ravi Ashwin bring experience and variation: With 4021 Test runs at an average of 44.18 backing Gautam Gambhir's experience India should look to use his services for the remaining two Tests. Gambhir will be itching to move out and prove his mettle once again. There is no doubt regarding Gambhir's talent and his expertise facing the new ball will help India counter James Anderson and Co. This is a fact that Ravi Ashwin has not been productive outside Indian subcontinent, but now that he is in squad as a main spinner makes him an obvious choice to lead India's spin department. He has variations and can outwit England batting, which lacks experience in terms of playing a proper spinner.