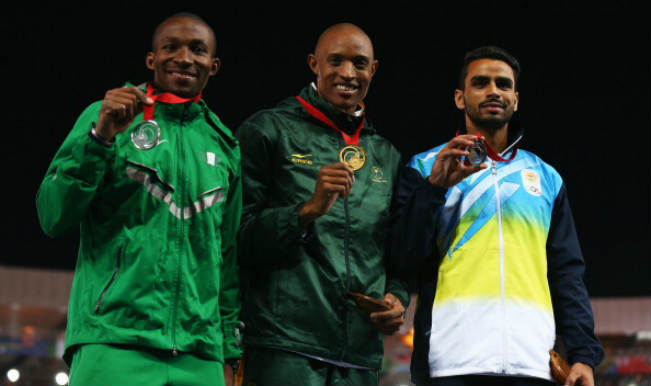 Glorious day for the Indian athletics as Arpinder Singh took the bronze medal in the Men's Triple Jump at the Commonwealth Games 2014. After the gold medal by Vikas Gowda in the Men's Discus Throw and Seema Punia's silver medal in the Women's Discus Throw, it was third medal in the track and field event for India. India are sitting pretty at the 5th place in the 20th Commonwealth Games. Their medal tally has gone up to 61 including 14 gold, 28 silver and 19 bronze.
Arpinder Singh with his superb jump of 16.63m took the bronze medal in the track and field men's triple jump event. South African Khotoso Mokoena jumped a leap of 17.20 to take gold and Tosin Oke took silver with brilliant effort of 16.84m. This s third medal in the athletics by India at this Commonwealth Games 2014.
Twenty One-year-old Arpinder Singh of Punjab had smashed the national record in men's triple jump. He made a jump of 17.17m to win gold and qualify for the Glasgow Commonwealth Games in the 54th National Inter-State Senior Athletics Championships.
Get Commonwealth Games 2014 Complete Schedule of Indian Players Here 
Get The Updated Commonwealth Games 2014 Medals Tally Here