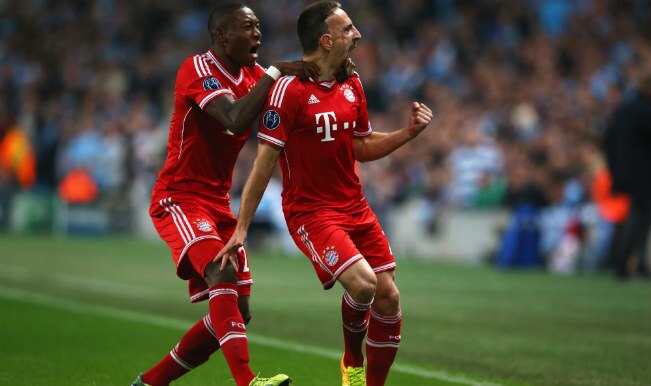 Champions League holders Bayern Munich were held to a 1-1 draw in the 2nd leg of the Round of 16 at the Allianz Arena by Arsenal. Despite being unable to secure a much favoured win against Arsenal on the night, Bayern Munich progressed 3-1 on aggregate to the quarter-finals of the Champions League.
Arsenal's exit means that the London side have been knocked out of the Champions League for the second time in a row through the hands of Bayern Munich. Arsenal were trailing 2-0 before the 2nd leg.
Bayern dominated the whole match as Arsene Wenger's men couldn't cause much trouble to the defence partnership of Dante and Javi Martinez. Arsenal's only game-plan seemed like Alex Oxlade-Chamberlain's pace. The English winger managed to give the Bayern defence major problems.
Bastian Schweinsteiger scored an early second-half goal to give Bayern Munich the lead and make Arsenal's task seem tougher. But Lukas Podolski grabbed the match's equaliser through a rather controversial goal through Bayern's eyes. The German striker appeared to have slightly pushed Philipp Lahm to drill his effort above keeper Manuel Neuer
Arsenal's Lukasz Fabianski was in goal for the suspended Wojciech Szczesny and performed to his best. The deputy keeper saved Thomas Muller's stoppage-time penalty kick after Laurent Koscielny brought Arjen Robben down.