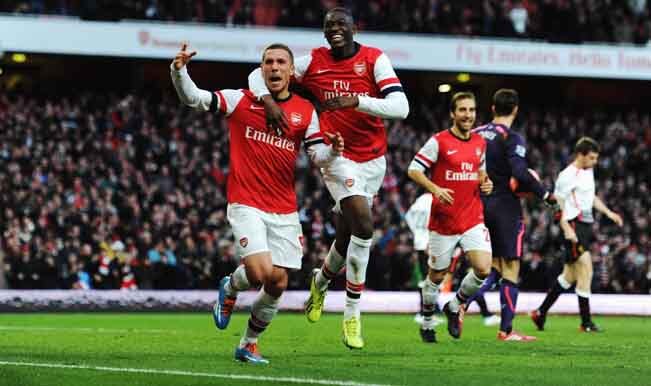 Arsenal squashed Liverpool 5-1 to take revenge for the 2-1 Liverpool victory in the fifth round of the FA Cup at The Emirates Stadium. Brendan Rodgers, who is the interim manager for Liverpool Football Club, was short of breathing fire for the 'blatant penalty' denied to Liverpool by the referee, Howard Webb.
For the quarter finals, Arsenal Football Club will be playing at home against Liverpool's arch rival, Everton. The Arsene Wenger led Arsenal dominated the match when they were leading 2 to nothing after half time with a 16th minute goal by Alex Oxlade-Chamberlain and a beautiful assist for the second goal scored by Lukas Podolski. (View: Here's the gallery of the match)
Lukas Podolski conceded a penalty nullifying his contribution to the game in terms of goals when he tripped Luis Suarez which was taken by Liverpool Captain, Steven Gerrard, who scored in the 60th minute to give Liverpool fans a ray of hope.
Alex Oxlade-Chamberlain tackled Suarez for which the Liverpool team and manager started appeals but they fell on deaf ears when Webb dismissed the demand and let play resume without a penalty which could have let Liverpool equalize the game.
Liverpool boss, Rodgers, said after the match that Webb should have given the penalty kick when Luis got a touch on the ball and Alex took him out but Arsenal boss, Wenger expressed doubt on whether it should have been a penalty at all and said that he is proud of the way Arsenal avenged the defeat from the previous week.
Liverpool missed two very good chances to score goals in the early part of the first half. Had they made the most of those chances, the final score could have been very different.
Arsenal can now completely focus on the Premier League with 56 points and second place on the points table while Liverpool is at the fourth place with 53 points.
Arsenal play their next match with Bayer Munich on 20th February 2014 with the match starting at 0115 hours IST.