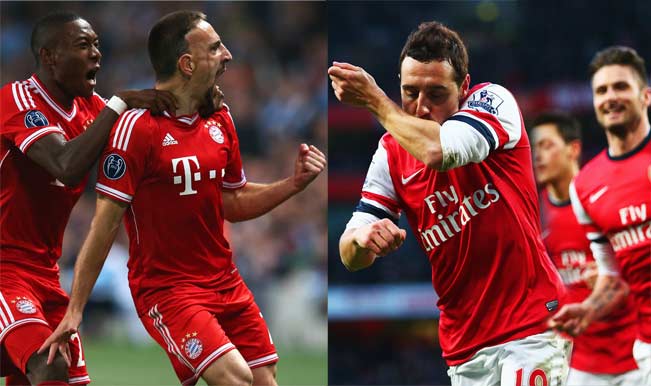 Arsenal welcome Bayern Munich to the Emirates Stadium for the 1st leg on Wednesday. The Gunners are out for revenge against the same team that knocked them out of the exact same round (Round of 16) in the Champions League last year.
Both teams have made vast improvements since then. Arsenal have added Mesut Ozil to their midfield who has certainly played a huge part for the London side's improved play this season. The German had last faced Bayern in 2012, when his Real Madrid side were knocked out by the German powerhouse at the semifinal stage of that year's European tournament.
Bayern Munich have replaced Jupp Heynckes with Pep Guardiola this season. The Spanish manager has added former Barcelona star Thiago Alcantara and Mario Gotze from Borussia Dortmund to build one of the strongest group of midfielders in world football. Thiago's superb performances have even pushed Bastian Schweinsteiger to the periphery of the squad.
After their latest acquisitions, both the teams have been in great form this year. Arsenal have spent most of the season at the top the English Premier League table and are currently in second place. Rather than battling for the top four, they're genuine title contenders this season.
Meanwhile, Bayern Munich is running away with the Bundesliga title as they stand at the top 16 points ahead of second placed Bayer Leverkusen.
Arsenal seem ready as they are looking for a truly landmark result. The Gunners have failed to beat Manchester United, Manchester City or Chelsea. By beating Bayern Munich, they could send out a message to every team they are yet to face towards their hunt for silverware this season.