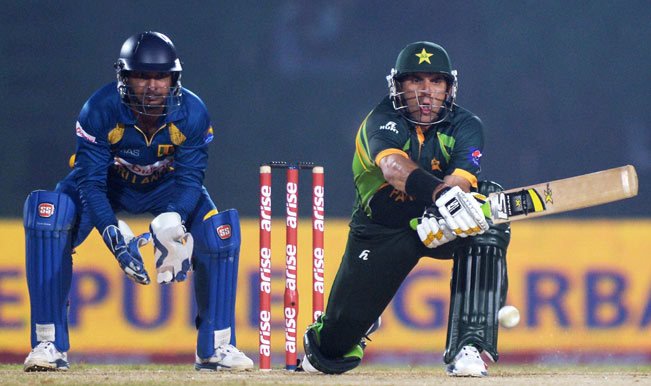 Asia cup 2014 has been a roller coaster ride in terms of emotions. You may not get another ODI tournament with so much drama and suspense in a long time. The tournament started with a thriller between Pakistan and Sri Lanka and will end with another tie between the two nations. While the Sri Lankans have been without a doubt the best team in the tournament so far, the Pakistan team are themselves on a three match winning streak. The final of the so far exhilarating Asia cup promises to be yet another hard fought classic game of cricket.
The young Indian team is out of the tournament even after performing well and giving the above teams a run for their money in the games against them (yes I said performing well, the Indian team performed better than the credits they have been getting). But that does not mean that Indians have no reason to watch this match. Here's a look at the top 5 reasons why Indians should watch this match.
1- The match promises 100 % entertainment: If you saw their first match you would have no doubt about the quality of competition that these two teams would provide. And to be fair, there's nothing better than a great cricket game to a cricket fan.
2- Shahid "boom boom" Afridi: The Pathan has been on a roll lately. First he single handedly took India out of the competition and then won an almost impossible battle against Bangladesh. Not to miss that he is equally able with the ball too.
3- The battle Saeed Ajmal and Ajantha Mendis: The two spinners are among the most unorthodox in the world today. It is equally difficult to pick them up. Whichever team plays the opposition spinner better, the match will surely turn in that teams favor.
4- Kumara Sangakara vs. Ahmed Shehzad: Both of them have been in prime form lately. On one hand there is kumara Sangakara, a veteran who has scored a 50+ score in 3 out of the four games he has come out to bat. When he is on song there is rarely anyone who will match the grace and beauty of his batting. On the other hand there is Ahmed Shehzad who just like Sangakara has scored a century in his last game against Bangladesh to go with his 50and 42 against Afghanistan and India respectively. Pakistan seem to have one advantage here though, Shehzad has not failed in the last 3 games while Sangakara was dismissed for 2 in the last game against Bangladesh, which might prove to be the start of the end of his golden run with the bat.
5- Lasith Malinga and Mohammad Hafeez: This would be an epic battle between bat and bowl, right? Amazingly we are talking about ball vs. ball here. Mohammad Hafeez has been opening the bowling for Pakistan on a regular basis now and has the best economy rate for bowlers opening the bowling in this Asia cup. Also he is often used in the batting power play, where he is as miserly as he is at the start of the innings. As far as Malinga is concerned he is by far the most dangerous bowler when it comes to the Sri Lankan bowling attack. he might have past his prime, but when it comes to bowling toe crushing Yorkers at those crucial stages of a match there is none better than the Slinga.
With so many promising aspects to look forward to, with so much entertainment promised, it would be very hard for a cricket fan to miss out on the game which promises to crown the champions of Asia. Now there is hardly any country that follows cricket with the passion we Indians do. So the question is, are you going to follow the Asia cup finals?