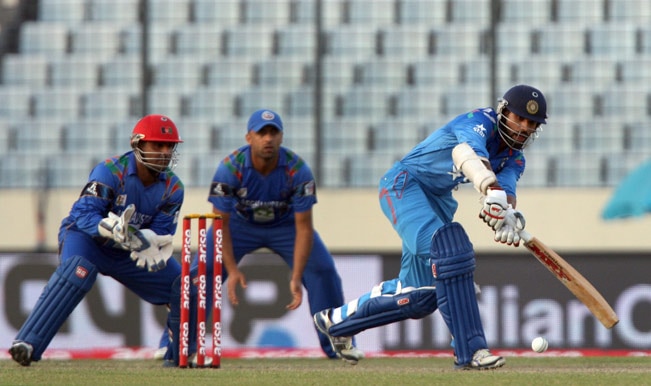 The Afghans have been determined in handling pace and spin before, but they really haven't come off against spinners who bowl. They had somehow done a decent job against Saeed Ajmal but had found Ajantha Mendis too difficult to handle. When it came to handling three spinners of completely different nature (a wily off-spinner, an aggressive leg-spinner, and an accurate left-arm spinner) they found themselves struggling too much for their comfort.
Neither Cheteshwar Pujara nor Ishwar Pandey played throughout the tournament.
I have stopped being surprised. The selection has not been based on merit. Had it been based on on-field performances Pujara would have walked into the side ahead of most others. We're talking of the man with the second-best List A numbers in the history of the sport here (Pujara's average of 54.57 is second to only Michael Bevan's 57.86 among everyone with over 2,000 List A runs).
As Sunil Gavaskar asked today, "Are you worried that Cheteshwar Pujara will score runs so that your favourites who are not consistent might have to make way?" One can only hope that others come up to tell that the Emperor really does not have new clothes on him.
India cruised easily to victory today…
That was expected. It was nice to see Ajinkya Rahane get some runs today: he had averaged less than ten runs from the ODIs on the twin tours of South Africa and New Zealand. His ODI average is still a below-par 25.44, but one can only hope it will improve from here.
Dinesh Karthik also played a few strokes…
That is probably more good news than bad. Karthik has not really fired in ODIs; his average of 27.93 doesn't make him qualify for the Indian side as a batsman; and if it's a wicket-keeping batsman that India had been looking at they had Ambati Rayudu anyway. They could easily have gone in with an extra batsman for Karthik. One can assume, as Gavaskar had suspected, that the selectors were too scared of Pujara's success.
As for wicket-keeping, he was the man who missed crucial stumpings in the two matches which eventually led to the two Indian defeats. Additionally, in his last 24 ODIs Karthik has crossed 25 only twice, one of which had been against Zimbabwe.
Do you think India can take any positives back from the tournament?
Of course. India had several reality checks here — facts that may help them in the build up for the World Cup.
First, Virat Kohli has been an enthusiastic, experimental captain, who is capable of taking risks and thinking on his feet. He can turn out to be a worthy successor to MS Dhoni.
Secondly, India must realise that they do not have quality fast bowlers, and might want to re-strategise. Gavaskar had played two slow spinners and a few medium-pacers to go with Kapil Dev in the 1984-85 World Series Cup in Australia that India had won; Martin Crowe had included a group of "dibbly-dobbly" bowlers and Dipak Patel to support Danny Morrison in World Cup 1992 on the small New Zealand grounds.
It is not important to have quality fast bowlers to win ODIs; throughout the history of ODIs the most successful men have been those who have conceded the least dot-balls and boundaries. It has happened on Australian soil too.
As for batting, the tournament has exposed the fragility of the Indian top-order and the lack of a finisher. While the latter can be countered by the return of MS Dhoni, the former can be done by getting someone like Gautam Gambhir back. Pujara would have been an excellent option, but the only purpose he serves on limited-over tours is by earning BCCI some frequent flier miles.
What about Ishwar Pandey?
I guess it's the same. Stuart Binny had at least got a chance (he has batted once in the two ODIs he has played and has bowled five overs). One would have expected the selectors to have a look at Pandey given the abysmal display by the bowlers. But then, Indian selection policies might keep on surprising us with retaining players who have been failing on a consistent basis.