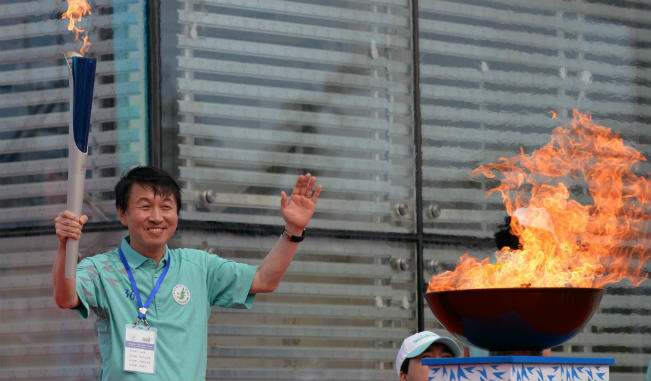 Incheon (South Korea), Aug 14: The Asian Games torch was unified with the Incheon flame in a colourful ceremony amidst huge fanfare at the Incheon Culture and Arts Centre here Thursday. The torch relay started Saturday from the National Stadium in Delhi, the first venue of the Games, and arrived here Wednesday morning after covering 5700 km.
The flame was received by Mijito Vinto, third secretary, Embassy of India, in the presence of Ambassador Vishnu Prakash at the Incheon Culture and Arts Centre. Hundreds of persons including a large number of Korean dignitaries were present at the occasion. Vinito carried it among the audience and formally handed it over to Kim Young-soo, president of the 2014 Incheon Asian Games organising committee. The mayor of Incheon Yoo Jeong-bok similarly accepted the torch lit here and the two flames were then unified.
The torch relay started with another colourful ceremony in Delhi. The Incheon Asian Games organising committee flew the flame in a specially designed container to Weihei in China, which had hosted the 2010 Asian Games in the city of Guangzhou. From Weihei it was ferried across to Incheon. In parallel, another torch was lit at Mount Mani at Ganghwa Island, off Incheon's coast Tuesday morning.
It was the first time that the torch relay started from the National Stadium. In the past the torch was generally lit at the host country but from now on the Olympic Council of Asia (OCA) will be continuing with this tradition for all the Asian Games. The Asian Games will be held in Incheon from Sep 19 to Oct 4. South Korea would be hosting the Asian Games for the third time after 1986 and 2002.