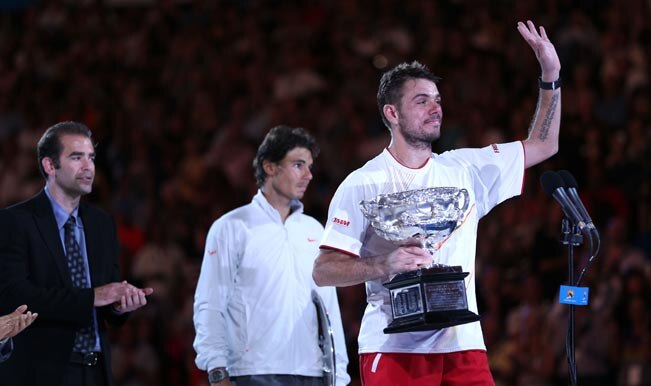 World Number 1 Rafael Nadal might have won the battle of legends in his semi-final match against former world champion Roger Federer in straight sets but his Swiss compatriot proved too much for him in the final. Stanislas Wawrinka finally came out of Roger's shadow to beat Nadal and win a Grand Slam of his open as he beat Nadal 6-3, 6-2, 3-6, 6-3 in Melbourne.  Nadal was obviously injured and was moving quite gingerly but the Swiss showed no mercy and earlier had a run-in with the umpire when he disapproved of Nadal's 'medical time-out'.
The eight-seeded Wawrinka was simply exemplary and easily gave one of his best performances while Nadal looked uncomfortable and never really settled down. Firing aces at will and with a string of winners, Wawrinka took the opening set 6-3. There was no respite for Nadal as the  misery continued in the second set as well with the Swiss breaking Nadal's serve early on.
The drama only increased when Nadal asked for a medical timeout with Wawrinka leading the match and this visibly upset the Swiss who questioned the chair umpire and authorities. Nadal resumed the match six minutes later and was greeted by boos from the crowd in the Rod Laver Arena.  Nadal seemed to suffering from a lower back injury which severely restricted his movement and Wawrinka took advantage of this. Rafa however, didn't get this far by giving up and the Spaniard pulled together to win the third set 6-3 which sparked hope among the millions of Nadal fans in the world. But his restricted movement meant that there was only one outcome and in the fourth set Wawrinka put his foot on the pedal to march towards his first Grand Slam. He broke Nadal to take a 4-2 lead which the Spanish avenged by breaking him immediately. But poor movement on the court made matters worse for Nadal as he failed to hold on to his serve again to give Wawrinka a 5-3 lead which meant that the Swiss just had to hold serve to win his maiden Grand Slam.
Wawrinka's victory means that he shall no longer be referred to as the 'other Swiss'. He had an amazing tournament as he first beat hot favourite Novak Djokovic in the quarter-finals, dispatched Czech player Thomas Berdych in the semis and finally shocked Nadal in the final. More significantly, Wawrinka's victory means that he's the first man after Juan Del Portro (2009 US Open) outside the the big four (Nadal, Federer, Murray and Djokovic) to win a Grand Slam title!