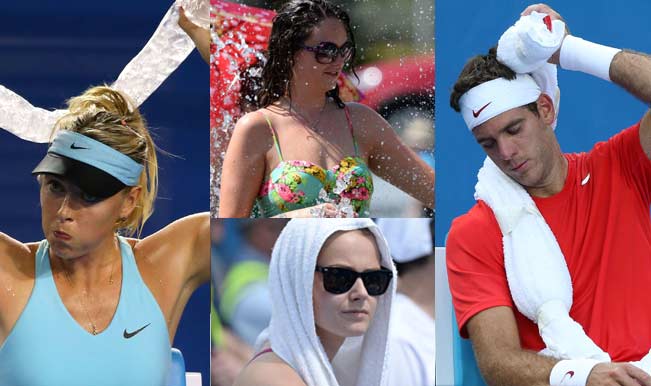 The administrators of the Australian Open tennis tournament have been forced to adopt an "extreme heat policy" due to three consecutive hot days of over 40 degrees Celsius.
This means that play on all outside courts will be stopped and matches will be suspended in the main arenas until the roofs are closed.
The announcement was made at 1.52 p.m. Thursday following criticism from players for playing in such extreme conditions. The forecast for Melbourne Thursday is 44 degrees, even two-three more than the previous two days. Friday is expected to reach 42 ahead of a gusty change.
Earlier, tournament referee Wayne McKewen said while conditions so far this week had not warranted the extreme heat policy to be implemented, "today may be a different story based on forecasts."
Speaking to Melbourne radio station 3AW, McKewen said weather conditions were being "continually re-assessed" and that he was in regular contact with the tournament's chief medical doctor and the Bureau of Meteorology, which has set up a temporary base at Melbourne Park.
"We've got staff in the tournament control who are continually monitoring the weather conditions," he said, adding that ambient air temperature, humidity and wind variation were all considered.
McKewen said he was confident the regulations protected players' health and safety, despite removing the phrase "predetermined threshold" from the tournament's heat policy earlier in the week.
The trams carrying spectators to and from Melbourne Park Tuesday had to be suspended in late afternoon after their steel tracks simply buckled in the heat.
On Tuesday, a reading of 26 results in ice vests being dispatched to all courts, but even after exceeding the 30.1 reading, which prompts a 10-minute break between the second and third sets of women's singles matches, but these measures to avoid heatstroke are not enough to appease players' concerns.
Canadian qualifier Frank Dancevic, who fainted, was understandably furious when he regained consciousness on Court Six and was required to complete his match against Benoit Paire in the men's first round on Monday.
"I think it's inhumane," Dancevic said. "I don't think it's fair to anybody, to the players, to the fans, to the sport, when you see players pulling out of matches, passing out," said Dancevic, who harshly complained over playing under such weather conditions.
US player John Isner said it was a like an oven on court. The American played his first round Monday, but had to withdraw half way after he lost first two sets, partly for heat.
"When I open the oven and the potatoes are done, that's what it's like," he said.
Fourth-seeded Andy Murray warned organisers were risking a tragedy as extreme temperatures caused players to faint and vomit in a day of soaring heat at the Australian Open and worried over a possible "heart attack" for players.
Chinese player Peng Shuai had to take a medical assistance halfway in her first round singles for cramping up and vomiting, a likely heatstroke syndrome.
Former world No. 1 Caroline Wozniacki found her water bottle melting down when she picked it up half way in her first round singles on Tuesday.
Nine players retired during the first round, some quoting a reason of injury, but heat plays a big role behind the record pullout.
In 2009, the hottest edition on record with an average daily temperature of 34.7 Celsius, reigning champion Novak Djokovic pulled out of his quarterfinal with Andy Roddick, citing heat exhaustion.
A total fire ban is in effect across Victoria, where severe bushfires in 2009 devoured entire towns, killing 173 people and injuring hundreds more. IANS