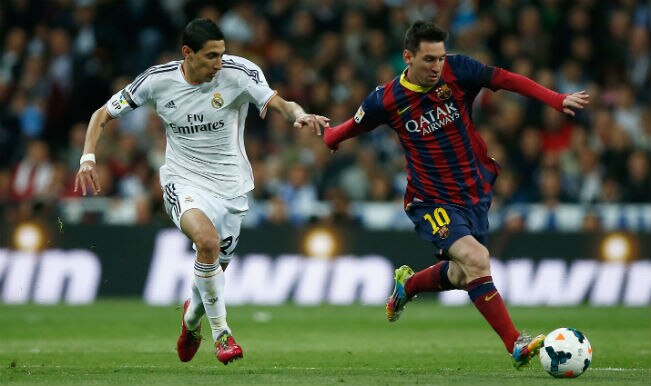 Barcelona revived their La Liga title hopes with a controversial 4-3 win over Real Madrid at the Santiago Bernabeu. The El Clasico saw Lionel Messi claim a hat-trick in the seven goal thriller. The result puts Barcelona only a point behind Real Madrid, while Atletico Madrid claimed the La Liga top-spot for the weekend. (Check out the action in pics)
Barcelona opened the scoring on the sixth minute through an Andres Iniesta shot drilled into the top corner of the goal. The star midfielder found space on the left side as Real Madrid's right-back Dani Carvajal was caught out of position.
Real Madrid restored parity on the 20th minute as Karim Benzema rose above Barcelona's Javier Mascherano to head home a beautiful cross turned in from the left flank by Angle Di Maria. Carlo Ancelotti's men continued to impress through Di Maria as the winger again managed to find Benzema with a cross, who this time controlled the ball on his knee before blasting it into the net.
The El Clasico never failed to excite as Barcelona equalized through their main-man Lionel Messi on the 42th minute who dodged two Real Madrid defenders to find the net. 2-2 at half time.
The second half of the El Clasico kicked-off a penalty mess as Cristiano Ronaldo was brought down by Barca's right-back Dani Alves. Replays showed that Ronaldo was tripped outside the box but the referee seemed to have thought it was a penalty. Ronaldo converted the spot-kick to give Real Madrid the lead. 3-2.
Barcelona responded with a penalty of their own through Messi, as Sergio Ramos brought down Neymar in the box and the defender was sent off for stopping a goal-scoring opportunity. Messi made it 3-3 before taking another penalty for a soft foul on Iniesta by Xabi Alonso later in the game to give Barcelona a 4-3 win.
With the hat-trick Lionel Messi beat Alfredo Di Stefano's record to became the all-time top scorer in the history of the El Clasico with 21 goals. Messi also became the top foreign La Liga goalscorer, breaking Hugo Sanchez's record of 234 that stood since 1994.