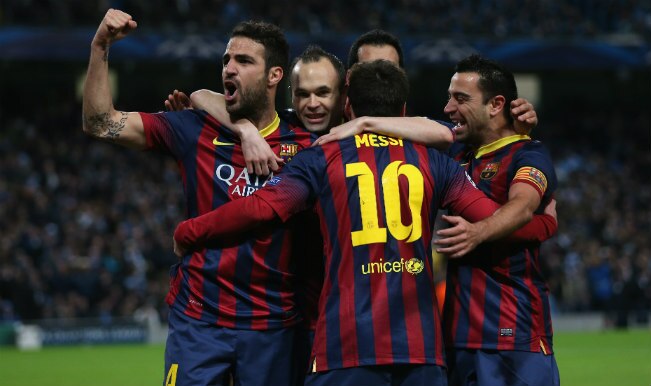 Barcelona welcome Manchester City to the Nou Camp for the second-leg Round of 16 clash in the Champions League. Barcelona have one foot in the Champions League's last eight with a 2-0 lead grabbed through a win at the Etihad Stadium. (Read the final report of the Barcelona vs Manchester City match here).
Barcelona are heavy favourites to knock out Manchester City and cause more misfortunes for Chilean manager Manuel Pellegrini after they were knocked out of the FA Cup. An exit from the Champions Leage will further dent the season of Manchester City. (Read: Barcelona stars are Simpson-ized)
The Catalan giants on the other hand have too been mired by problems. In January, Sandro Rosell resigned as president after becoming engulfed in scandal over the signing of Brazilian star Neymar last May.
Lionel Messi and the Spanish club haven't performed as well as the previous seasons and Barcelona now trail the Cristiano Ronaldo led Real Madrid by four points in the La Liga. A shocking 1-0 loss to Real Valladoid at the weekend cau. Barcelona still have to travel to the Santiago Bernabeu later this month.
BARCELONA STATS
1- Barcelona have only lost one of their last 18 knockout games at Camp Nou in the Champions League (0-3 v Bayern Munich in last season's semi-final).
2- Out of 30 home games in the Champions League knockout stages, Barcelona have only lost two by at least two clear goals (0-2 v Real Madrid in April 2002 and 0-3 v Bayern Munich in May 2013).
3- Only one English club has managed to beat Barcelona at Camp Nou in the Champions League (in 17 games): Liverpool in February 2007 (1-2).
4- The last three Champions League visits by English clubs to Camp Nou have produced 13 goals.
5- Barcelona have the most prolific attacking record at home this season in the Champions League with 13 goals in three games.
6- Barcelona have reached the semi-finals of the Champions League in each of the last six seasons, the longest run in the competition.
7- Lionel Messi (66 goals) is only five goals away from equalling Raul's Champions League goalscoring record (71 goals). The Argentine has netted seven goals in only four games this season (from nine shots on target). He needs one more to be the top scorer for one club (currently level on 66 with Raul for Real Madrid).
8- Neymar has been directly involved in five of Barcelona's last seven Champions League goals (three goals, two assists).
9- Xavi has played 138 games for Barcelona in the Champions League. One more outing and he'll equal the record for most appearances for one club in the competition (Ryan Giggs 139).
MANCHESTER CITY STATS
1- Manchester City haven't won in their last three Champions League games against Spanish clubs (D1 L2).
2- Manchester City have won their three away games in the Champions League this season, including a 3-2 victory against the current European champions Bayern Munich.
3- Manchester City have only kept one clean sheet in their last 13 Champions League games (3-0 win v Viktoria Plzen last September), including none in their last six outings (longest current run among the 16 remaining teams).
PAST THREE MEETINGS
Manchester City 0 Barcelona 2 (Messi pen, Alves) February 2014
Barcelona 0 Manchester City 1 (Petrov) (Pre-season friendly) August 2009
Manchester City 2 (Anelka, Sinclair) Barcelona 1 (Saviola) (Pre-season friendly) August 2003
So it looks like a perfect match for both sides when it comes to the timing of the meet but who will win the game? Can Manchester City overturn the two goal deficit and cause a major shock?
(Have a look the UEFA Champions League Fixtures and Results up until now)