In this edition of Barclays Premier League 2014-15 Team Preview we look at two teams from London that had diametrically opposite fortunes last season. Arsenal were dominant in the first half of the season and looked like potential Premier League champions till the first week of February, Crystal Palace were flirting with regulation till mid-January, placed at the bottom of the table. Fortunes suddenly changed after that for the two teams.  Arsenal went sliding down the table to end the season in fourth place, ahead of Everton in fifth place by a whisker. Crystal Palace though suddenly found their best form after that, winning five games at one point to end the season in 12th Place.
This is how their teams stack up this season.
Barclays Premier League 2014: Arsenal FC Team Profile
Arsenal started their Barclays Premier League season spectacularly well and was spectacularly disappointing at the end of the season. There was a lot of criticism that Mourinho faced when he called Arsenal Manager Arsene Wenger "a specialist in failure." The jury is still out whether he was able to get rid of that tag after his team's spectacular slide down the table. The big losses against big teams should have haunted the fans most.
Arsenal started their season with a 1-3 loss against Aston Villa at home, with Wenger attracting a lot of criticism for his miserly ways. Wenger then opened his purse strings, buying a marquee player after a long time, Mesut Ozil. Ozil transformed the way Arsenal played taking Arsenal to the top of the table.  But the brilliant attack was hiding the bad defence at the back, something which was exposed in shocking fashion by the end of the season.
All away matches against big teams came with huge defeats. They first lost 6-3 to Manchester City at Etihad in mid-December. But they were still top of the league till February first week. The loss was considered an anomaly as they were still keeping clean sheets.  But then they travelled to Anfield in second week of February. The score in the first 20 minutes was 4-0, with Liverpool leading and the match already decided. The score ended 5-1, the lone goal being a penalty by Mikel Arteta.
This was nothing compared to what was about to come. In March, they travelled to Stamford Bridge to face Chelsea. The final score was 6-0. This was Arsene Wenger's 1000th match as Arsenal manager.
They also lost 1-0 at Manchester United, 3-0 at Everton and 1-0 at Stoke. Their away form was woeful. On the brighter side, they won their first trophy in a decade, an FA Cup encounter.
This season they have bought Alexis Sanxchez, their second marquee player in as many seasons. They also bought goalkeeper David Ospina to give some competition to their joint Golden Glove winner of last season Wojciech Szczesny (quite ironical considering their scores against the big teams). If they end up improving their defense as well, the Gunners might just do better and finally win a Premier League trophy.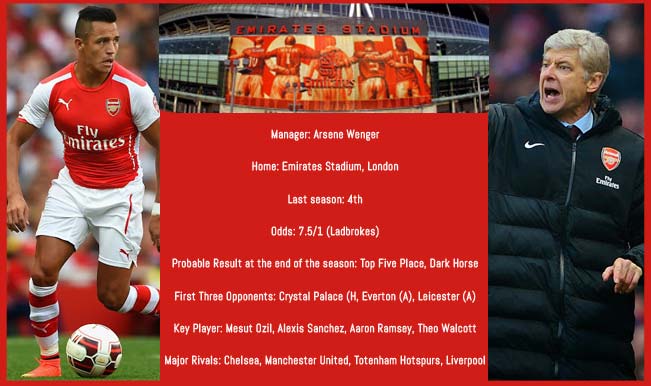 Barclays Premier League 2014: Crystal Palace Team Profile
Crystal Palace, on the other hand, had a difficult season for a big part of it. But the turnaround at the end of it was nothing short of amazing, retaining the place in Barclays Premier League for the first time in their last five attempts.
It is difficult to expect The Eagles to keep their place in the top flight this season after their inconsistent performance last season. Tony Pulis saved their season with his good management of the team. But can he repeat it again this time? Only time will tell.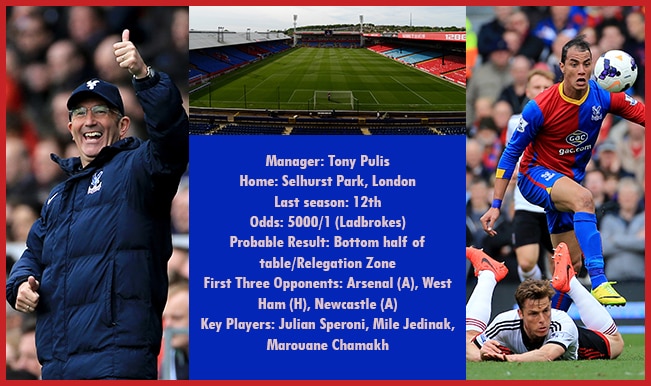 Other articles in the Barclays Premier League 2014-15 Team Preview series: