In this edition of Barclays Premier League 2014-15 Team Preview we analyse a team that has one of the best young line-ups in the league, Everton and another team that has spent a lot of time going up and down in the top two divisions, Leicester City. Everton had a good season last year, with the young side playing attractive football to win the hearts of fans and neutrals. They performed better than Totenham Hotspur even though the latter club spent more money on transfers after selling Gareth Bale for the highest amount in football history.
Leicester City earned promotion by winning the Football Championship after a ten year absence from the Premier League.  The big name player of their squad, Kasper Schmeichel, son of Manchester United legendary goalkeeper Peter Schmeichel. It would be interesting to see how he performs in the league. Will he succeed in coming out of his father's shadow?
Barclays Premier League 2014: Everton Team Profile
Very few teams can boast of having a young team that performs well on the field, even fewer can claim to outperform teams spending twice as much on transfers consistently. One team that comes to mind is Roberto Martinez. While Manchester United chose their 'Wrong One' last season with David Moyes under-performing at Manchester United after leaving Goodison Park, Everton chose their 'perfect one' in Martinez.
Roberto Martinez was spot on with his tactics, winning on a consistent basis to miss the fourth spot by a whisker as the Toffees finished fifth. Their highest scorer was an on-loan player from Chelsea, Romelu Lukaku with 15 goals. This season they bought him for £28 million from Chelsea after he refused to fight for the spot of first choice striker at Stamford Bridge. He will now be the first choice striker at Everton, but will he be able to play in the Champions League next season? That might not be possible with at least five teams, Manchester City, Chelsea, Manchester United, Liverpool and Arsenal looking like stronger contenders for it. Even a place in Europa League may be in doubt if Totenham along with the other five perform better than Everton.
Although one can count on them to play out of their skin to surprise everyone. If that happens Barclays Premier League can definitely claim to be the best in the world.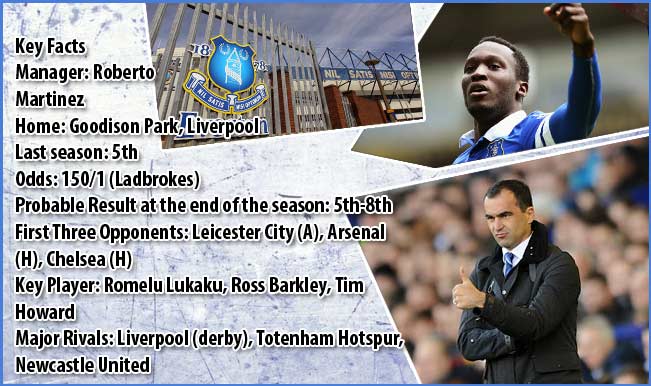 Barclays Premier League 2014: Leicester City Team Profile
As said earlier there is only one name, or rather surname, that someone recognizes on seeing the squad of Leicester City, Kasper Schmeichel, son of Manchester United shot-stopper Peter Schmeichel. Schmeichel Junior is the goalkeeper of the Danish national team. But it is not just his surname that attracts attention, his performances do that too.
He kept nine clean sheets in the 21 game unbeaten run that Leichester City in the Football Championship (second division) last season. This attracted some attention from clubs like Manchester United and AC Milan. But it is his performances this season that will attract genuine attention of the big clubs. That said, there is a surprise element of most players in the squad that manager Nigel Pearson can use. Expect some surprise performances against the big teams.